Chilling 'House Of Cards' Season 6 Teaser Reveals The Fate Of Kevin Spacey's Frank Underwood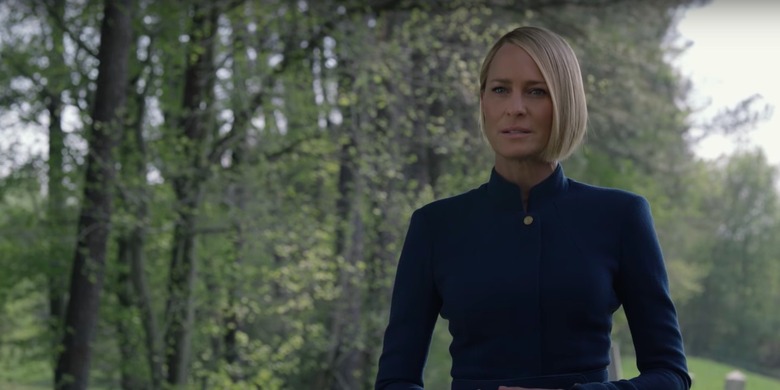 If you saw just one episode of Netflix's House of Cards, you would know that Kevin Spacey's Frank Underwood would give up power over his dead body. And...well, that seems to be pretty accurate.
Netflix has dropped a new House of Cards season 6 teaser that finally gives us a hint at what happened to the former 46th President of the United States following Spacey's firing from the series. There's no doubt about it: it really is Claire's turn now.
House of Cards Season 6 Teaser
In a brief teaser for the show's sixth and final season, Robin Wright's Claire Underwood delivers a chilly speech in front of a grave.
"When they bury me, it won't be in my backyard. And when they pay their respects, they'll have to wait in line," she says coldly, before turning her face to the camera for one of the show's classic fourth-wall breaks. The camera then pans to the grave she's speaking to, revealing that Frank Underwood has died and is buried alongside his father — something Frank would have hated for sure.
It's usually considered a bold move to kill off the protagonist of the first five seasons, but it's one that is fitting considering the show's pivot to Claire's arc as the 47th President and Spacey's firing in the wake of sexual misconduct allegations. Netflix has made an effort to distance itself from Spacey, retooling House of Cards with Wright as the lead and announcing that the sixth season would be its last. But more than a smug nod to Spacey, this upcoming season feels like a triumph for the always-phenomenal Wright, who has proved time and again to be one of the show's most dynamic performers. She's long deserved the spotlight, and now, with Spacey's Frank Underwood truly out of the way, she'll get her time to shine.
In addition to Wright, House of Cards season 6 features Michael Kelly, Diane Lane, Greg Kinnear, Jayne Atkinson, Patricia Clarkson, Cody Fern, Constance Zimmer, Derek Cecil, Campbell Scott and Boris McGiver.
House of Cards season 6 premieres on November 2, 2018 on Netflix.
Golden Globe winner and Emmy Award nominee Robin Wright returns as President of the United States in the sixth and final season of the award-winning landmark series House of Cards. Wright is joined by Academy Award nominees Diane Lane and Greg Kinnear as well as Cody Fern this season alongside Emmy Award nominee Michael Kelly, Jayne Atkinson, Academy Award nominee Patricia Clarkson, Emmy Award Nominee Constance Zimmer, Derek Cecil, Campbell Scott and Boris McGiver. House of Cards executive producers are Melissa James Gibson, Frank Pugliese, Robin Wright, David Fincher, Joshua Donen, Dana Brunetti, Eric Roth, Michael Dobbs and Andrew Davies. The series was created by Beau Willimon and is produced by Donen/Fincher/Roth, with MRC as the studio, for Netflix.