'Captain Marvel' First Look: Brie Larson Makes Her Marvel Cinematic Universe Debut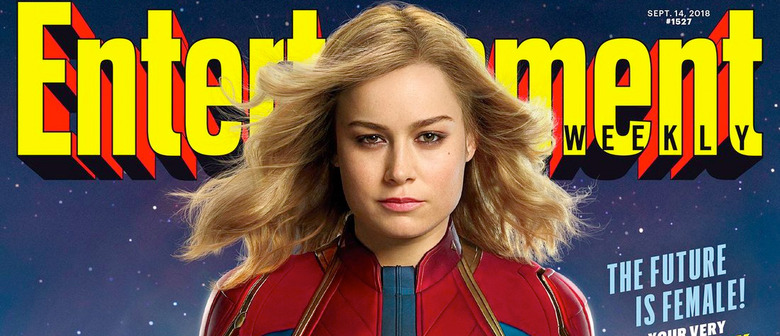 Ever since the post-credits scene for Avengers: Infinity War put out the call to Captain Marvel to come save the day in the aftermath of the mighty snap of Thanos, fans of the Marvel Cinematic Universe have been waiting for their first official look at the movie slated to arrive next March. That time has come.
The first Captain Marvel photo has surfaced online, showing Brie Larson (Room) in the titular superhero role as Air Force pilot Carol Danvers, who becomes endowed with super powers and finds herself in the middle of a galactic war between two alien races. Oh, and don't forget: this movie takes place back in the 1990s, long before The Avengers ever came together to save Earth from another band of aliens.
Captain Marvel Photo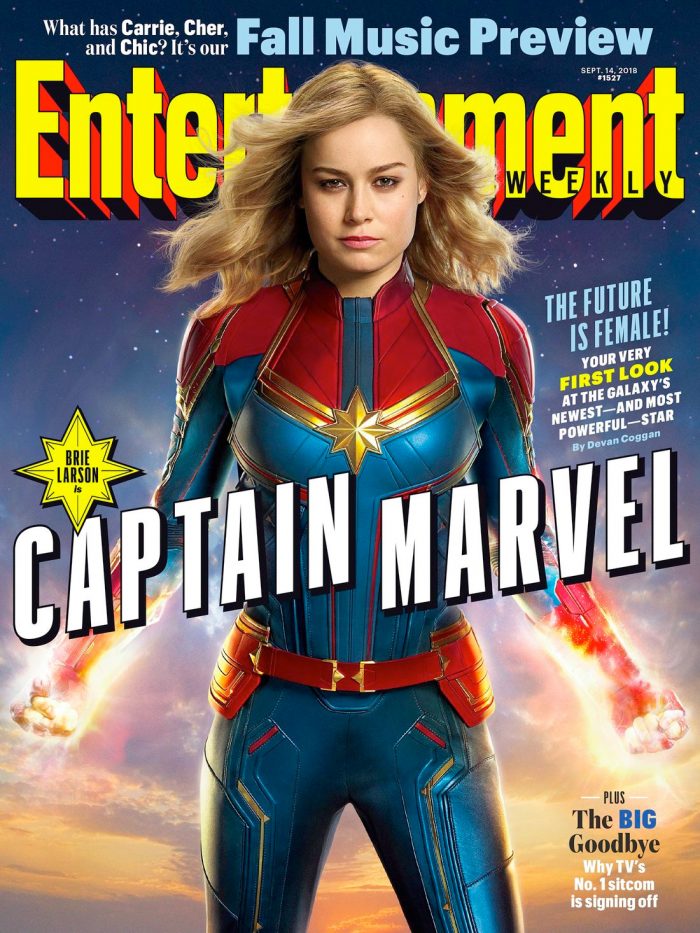 Granted, this is just a cover photo for
, but this is the first shot we've gotten of Brie Larson in the full red, blue and yellow Captain Marvel outfit.
only showed her in a black and green suit, and we're still wondering how that outfit will come into play in the movie. But check out those glowing fists!
Along with this cover photo, some new details emerged about the movie, including how this movie will be different from the traditional superhero origin stories we've come to expect. When the movie begins, Carol Danvers will already have her super powers. In fact, she's been living life in the cosmos as part of an elite Kree military team called Starforce, led by an "enigmatic commander" played by Jude Law. It sounds like she's a little cocky in her heroics though. Larson told EW:
"She can't help but be herself. She can be aggressive, and she can have a temper, and she can be a little invasive and in your face. She's also quick to jump to things, which makes her amazing in battle because she's the first one out there and doesn't always wait for orders. But the [not] waiting for orders is, to some, a character flaw."
Director Anna Boden, who is working with her collaborative partner Ryan Fleck on the film, echoes those sentiments:
"This is not a superhero who's perfect or otherworldly or has some godlike connection. But what makes her special is just how human she is. She's funny, but doesn't always tell good jokes. And she can be headstrong and reckless and doesn't always make the perfect decisions for herself. But at her core, she has so much heart and so much humanity — and all of its messiness."
Carol ends up going back to her home planet after some questions arise about her past. Plus, there's a new enemy she'll have to square off with in the form of the Skrulls, a species of shape-shifting aliens led by Ben Mendelsohn as Talos, who is hellbent on invading Earth. That's probably not going to go well for him.
Joining Brie Larson in Captain Marvel is Samuel L. Jackson as Nick Fury, who still has both of his eyes at this time in the Marvel Cinematic Universe. Something tells us that we're probably going to find out how he became the pirate-eyed lead agent of SHIELD. Speaking of which, Clark Gregg is also back in action as a younger Agent Coulson of SHIELD, who is the new guy on the team in the 1990s.
On top of that, Captain Marvel also includes Lee Pace and Djimon Hounsou
reprising their respective roles
as Ronan the Accuser and Korath the Pursuer from Guardians of the Galaxy. We're not sure how they'll come into play in Captain Marvel, but since this movie won't be your typical superhero origin story, anything is possible.
Otherwise, the rest of the Captain Marvel cast includes Gemma Chan, Lashana Lynch, Algenis Perez Soto, Rune Temte, and McKenna Grace. Some of them will surely be playing Skrulls too.
The film is directed by Anna Boden & Ryan Fleck (Half-Nelson, Mississippi Grind) with a script they worked on with Meg LeFauve (Inside Out), Nicole Perlman (Guardians of the Galaxy), Geneva Robertson-Dworet (Tomb Raider), and Liz Flahive & Carly Mensch (GLOW). Captain Marvel
Pinar Toprak (Krypton), marking the first time a major comic book movie has been scored by a woman.
The story follows Carol Danvers as she becomes one of the universe's most powerful heroes when Earth is caught in the middle of a galactic war between two alien races. Set in the 1990s, Captain Marvel is an all-new adventure from a previously unseen period in the history of the Marvel Cinematic Universe.
Captain Marvel hits theaters on March 8, 2019.