'Doctor Who' Season 11 Will Premiere In October On A New Night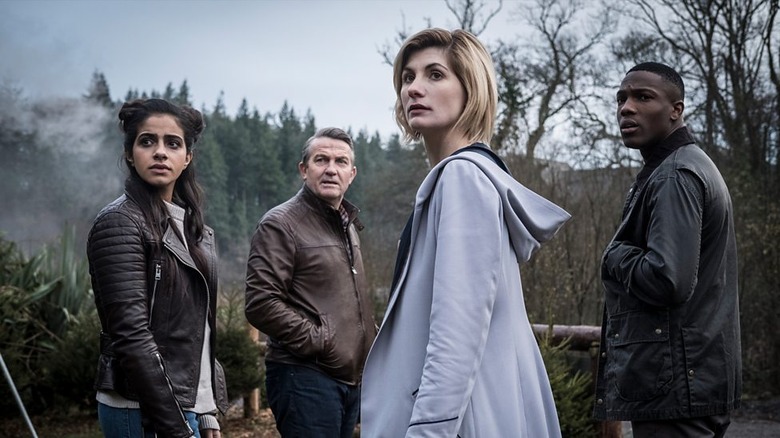 New Doctor, new night. For the first time since the "New Who" revival began airing in 2005, Doctor Who is moving from its Saturday block to Sunday nights. It's truly a new era for the long-running BBC sci-fi show, which begins its 11th season with its first female Doctor, Jodie Whittaker, this October.
The BBC has announced that the new season of Doctor Who will have its global premiere on October 7, 2018. They also announced the title of the first episode: "The Woman Who Fell to Earth."
It's About Time... #DoctorWho
Release date varies by country. Check local listings. pic.twitter.com/d7CyvMuQIW

— Doctor Who (@bbcdoctorwho) September 5, 2018
In a press release, the BBC elaborated:
The network's US premiere will start at the same time as the UK debut on-air on Sunday, October 7th (time to be announced), followed by a special encore in its new regular primetime evening slot.For the run of the season, Doctor Who will premiere regularly on BBC AMERICA on its new marquee night on Sundays.
This is the first time that Doctor Who will air on any night that's not Saturday since the show began its revival in 2005, and perhaps the first time in the show's 55-year history — barring a Christmas special or two. The show has been inextricably tied to that Saturday block because of its inception as an educational program, teaching children history and science through sci-fi. Naturally, the nature of the show has changed since then — especially since New Who brought the series to a global stage — though in the U.K., Doctor Who is still fondly thought of as a family show.
But it's a fitting new start for Doctor Who, which begins its 11th season not only with its first woman Doctor, but with a new showrunner Chris Chibnall and the show's most diverse creative team yet. Already the first trailer feels like a breath of fresh air from the long (and convoluted) reign of Steven Moffat, who helmed the show for six years after Russell T. Davies, who successfully shepherded the revival in 2005.
The U.K. broadcast of the Doctor Who season 11 premiere will be at an as-yet-unannounced evening time slot on the BBC network, with the U.S.-based BBC America airing the premiere twice: once in the afternoon, simulcast with the U.K. air time, and an encore airing at prime-time.
So, we have a month left. Plenty of time to rewatch the past 10 seasons of New Who or catch Whittaker's 13th Doctor's comic book debut in the upcoming anthology collection, The Many Lives of Doctor Who (out this month). Allons-y! Er — Geronimo! You get the gist.