'The Predator' TV Spot Asks You To Breathe Deep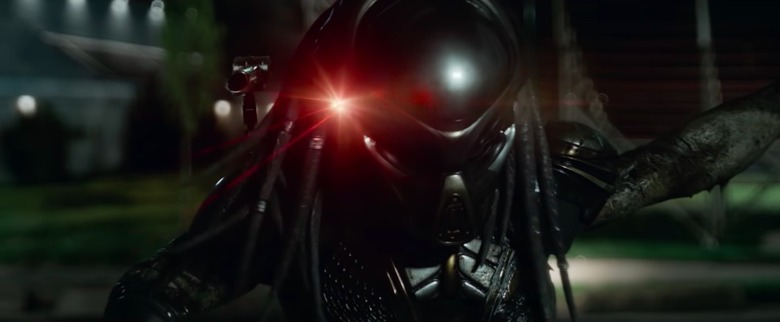 Take a breath and prepare yourself for The Predator to hit theaters very soon. The newest TV spot bombards us with bloody action and terror as the titular alien wreaks havoc upon the human scientists and soldiers trying to contain it.
The Predator TV Spot
We finally got a peek at that old Shane Black dry humor in the most recent The Predator trailer, but the newest TV spot brings us back to the moody violence that we saw in previous trailers. The Predator terrorizes the scientists who detained it and rips the soldiers attempting to capture it to shreds. The TV spot is an outburst of bloody violence punctuated by the rapid breathing sounds of Olivia Munn's Casey Bracket. Sterling K. Brown's unnamed government agent and Boyd Holbrook's PTSD-suffering soldier Quinn McKenna also get the spotlight in this TV spot.
Directed by Black, The Predator is the fourth installment in the long-running sci-fi horror franchise that began back in 1987 with the gritty jungle flick starring Arnold Schwarzenegger and directed by John McTiernan. Black pens the screenplay for The Predator alongside Fred Dekker, Jim Thomas, and John Thomas.
The Predator features an all-star cast including Boyd Holbrook, Trevante Rhodes, Jacob Tremblay, Keegan-Michael Key, Olivia Munn, Sterling K. Brown, Alfie Allen, Thomas Jane, Augusto Aguilera, Jake Busey and Yvonne Strahovski.
Here is the official synopsis for The Predator:
From the outer reaches of space to the small-town streets of suburbia, the hunt comes home. The universe's most lethal hunters are stronger, smarter and deadlier than ever before, having genetically upgraded themselves with DNA from other species. When a boy accidentally triggers their return to Earth, only a ragtag crew of ex-soldiers and an evolutionary biologist can prevent the end of the human race.
The Predator opens in theaters on September 14, 2018.