If 'Guardians Of The Galaxy Vol. 3' Happens, Dave Bautista May Not Return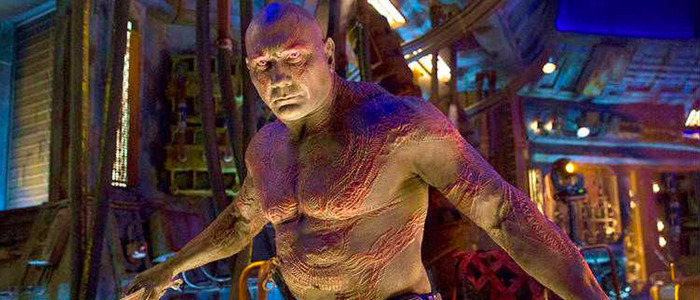 The fate of Guardians of the Galaxy Vol. 3 remains up in the air, but if and when the Marvel sequel happens, a new actor might have to step in and play Drax. Dave Bautista has once again commented that he's not really interested in being part of the Guardians 3 cast in the wake of James Gunn's firing.
All of the main Guardians of the Galaxy cast expressed displeasure over James Gunn's firing, but none of the cast members have been as vocal in their anger as Dave Bautista. Ever since Gunn's firing, Bautista has voiced his frustrations online and in interviews, and stated that he's lost much of his desire to continue on with the franchise. The actor shows no signs of changing his opinion, either. During an interview with the The Jonathan Ross Show, Bautista said that he's not sure if he wants to work for Disney anymore:
"There's a bit of an issue. It's a bittersweet conversation. No – it's a bitter, bitter conversation, because I'm not really happy with what they've done with James Gunn. They're putting the movie off. It's on hold indefinitely. To be honest with you, I don't know if I want to work for Disney... I've been very vocal about the way I feel. I'm not afraid to admit the way I feel."
Whether or not you agree with Bautista, he deserves credit for sticking to his guns and potentially throwing a wrench into his own career to stand up for his own personal beliefs. In a separate interview, Bautista added that he's aware his criticisms could cost him his job with Marvel and Disney, and that he's not very worried about that:
"I'm aware that this could possibly cost me a job I care for very much, but at the same time it's an integrity issue, it's a loyalty issue...So I'm not going to bite my tongue for anything, that's just who I am as a person. I've tried to actually be very choosy about what I say and the way I say it. I don't necessarily mean to be disrespectful but at the same time, I have to say what is on my mind and in my heart. I've just been honest...It is what it is if it costs me a job, that's just what happens."
In July, Gunn was fired from his Guardians of the Galaxy Vol. 3 directing gig after old offensive tweets – which were meant as jokes, but were also incredibly insensitive – surfaced. The firing was met with a rather vocal outcry, with many saying Disney made a mistake in their swift decision. Bautista, with the rest of the Guardians cast, later issued an open letter in which they revealed they still supported Gunn, and were very open to the idea of having him reinstated as director. Despite this, Disney opted not to offer Gunn his job back. Following this final decision, Guardians of the Galaxy Vol. 3 was put on hold indefinitely, with the future of the film still unclear.
In the past, Bautista has said he didn't want to do the third film if Gunn's script wasn't being used, but later added that he likely would do the movie due to contractual reasons.
I will do what Im legally obligated to do but @Guardians without @JamesGunn is not what I signed up for. GOTG w/o @JamesGunn just isn't GOTG. Its also pretty nauseating to work for someone who'd empower a smear campaign by fascists #cybernazis . That's just how I feel https://t.co/Ym4FwruVDu

— Dave Bautista (@DaveBautista) August 5, 2018
These new comments make it clear, however, that Bautista would be a-okay if Disney and Marvel released him from that contract. Time will tell how this entire messy situation is going to play out.