A24 Is Delivering 'Slice' To Theaters Next Week For One Night Only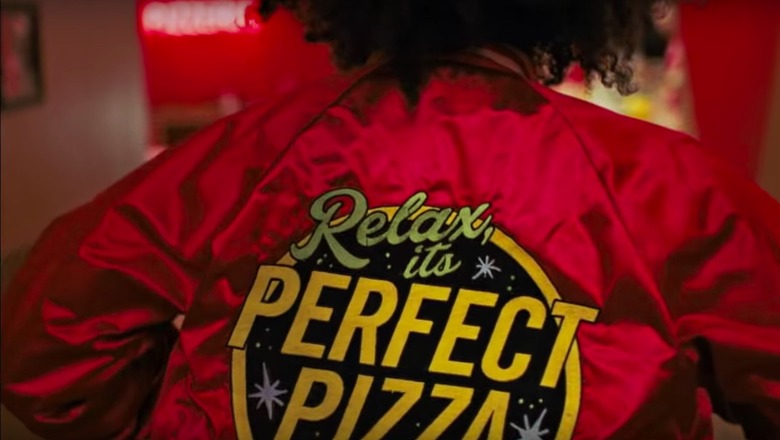 After nearly a year of teases and trailers — but no confirmed release date — A24 is quietly delivering the Slice world premiere next week. The Chance the Rapper horror film has seen several delays since its first teaser trailer dropped last October, and was originally intended to hit theaters in 2017. But now A24 is giving us a surprise delivery of "the perfect pizza" for one night only.
Next week, A24 is inviting you to join director Austin Vesely and stars Chance the Rapper, Zazie Beetz, Paul Scheer, and Rae Gray for a "slice" at the Slice world premiere in Chicago on September 10, 2018. But here's the rub: the special screening of the horror film will be held for that one night only.
Audiences can attend the world premiere in person at the ArcLight Cinemas Chicago or buy tickets for live simulcast screenings in 20 cities across the country, including Austin, Texas; Atlanta, Georgia, San Francisco, New York City, and more. The live simulcasts will include the full premiere and the after-movie Q&A with the director and stars. Tickets can be bought at Slice.Movie.
I can't tell if this is a really ambitious word-of-mouth marketing ploy or a last-ditch attempt to drop a troubled film that has been long in the making. Slice has remained largely a mystery since the project was first announced in 2015. A24 snapped up distribution rights in 2016 before news of the movie promptly disappeared. No footage, no release date, nothing, save for a cryptic teaser that was released in October of last year. But that shroud of mystery and Chance the Rapper's star power was enough to get the hype going, especially among genre fans.
Finally, the first trailer hit, and...Slice still remains a mystery. It's hard to make heads or tails of that footage, which delivers all kinds of violence and clashing tones before ending as soon as it started. There are supernatural creatures, a pizza store built on the mouth of hell, and several murdered pizza delivery boys, but do we know much else? To be honest, horror fans don't need much else to get in line for this film. Sprinkle on top of that director Vesely's description of his film as "Magnolia with ghosts," and you've probably got a fully booked world premiere.
Slice makes its one-night world premiere in Chicago on September 10, 2018. No wide release date has yet been announced.
In a spooky small town, when a slew of pizza delivery boys are slain on the job, two daring survivors set out to catch the culprits behind the cryptic crime spree.