New Photos: Lin-Manuel Miranda In 'Mary Poppins Returns', King Atlan In 'Aquaman'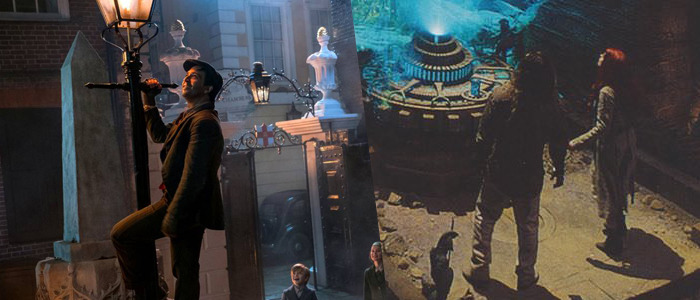 Aquaman and Mary Poppins Returns couldn't be more different, but the two potential blockbusters have one thing in common: each one has a brand new photo that's just hit the Internet. Below, you'll find a new picture of Lin-Manuel Miranda in Mary Poppins Returns and an image of Jason Momoa and Amber Heard in Aquaman staring up at a hologram of the king of Atlantis.
Lin-Manuel Miranda in Mary Poppins Returns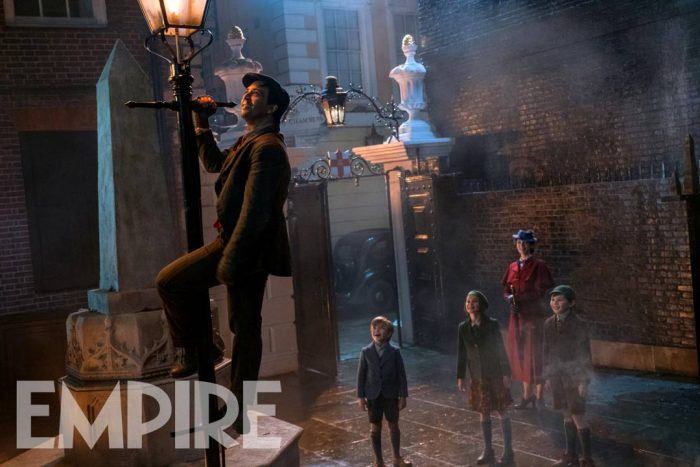 Empire Magazine has a couple of new images in its latest edition that are worth talking about. First up is one from Disney's Mary Poppins Returns. In this sequel to the 1964 classic, Miranda – arguably one of the most brilliant artists of his generation thanks to his work on Broadway (including a little production you might have heard of called Hamilton) – is playing a lamplighter named Jack. Not much is known about his character yet, but we do know that he's basically this film's version of Dick Van Dyke's Bert from the original. And with this striking pose and everyone else watching with glee, you can bet Miranda will be busting out his famous singing voice for all to hear.
King Atlan in Aquaman
Meanwhile, GeekTyrant points us to this Reddit image that apparently also comes from Empire, and this one shows Aquaman stars Jason Momoa (Arthur Curry/Aquaman) and Amber Heard (Mera) gazing up in awe at King Atlan. This character isn't listed on the movie's IMDb page, so it's still unclear about which actor will step into that role, but my guess is that it'll be Graham McTavish (Preacher, Outlander), who has a role in the movie but isn't allowed to talk about who he'll be playing. If you squint hard enough, you can picture McTavish under all of that Atlantean armor.
Meanwhile, CinemaBlend points out that Man of Steel and Justice League director Zack Snyder has received an executive producer credit on Aquaman, which is something we guessed long ago. But just because Snyder's name is attached doesn't mean he had a hand in shaping the final product – a report last year indicated that Snyder's influence on DC movies would be significantly reduced going forward. But giving him an executive producer credit makes sense, especially since he was the one who cast Momoa as Aquaman in the first place for a quick cameo in 2016's Batman v Superman: Dawn of Justice.
Mary Poppins Returns stars Emily Blunt, Lin-Manuel Miranda, Ben Whishaw, Emily Mortimer, Colin Firth, and Meryl Streep. It arrives in theaters on December 25, 2018.
Aquaman stars Jason Momoa, Amber Heard, Patrick Wilson, Nicole Kidman, Djimon Hounsou, Willem Dafoe, and Dolph Lundgren. It splashes into theaters on December 21, 2018.