'The Nutcracker And The Four Realms' Trailer: Disney's Fantasy Mash-Up Of Narnia And 'Alice In Wonderland'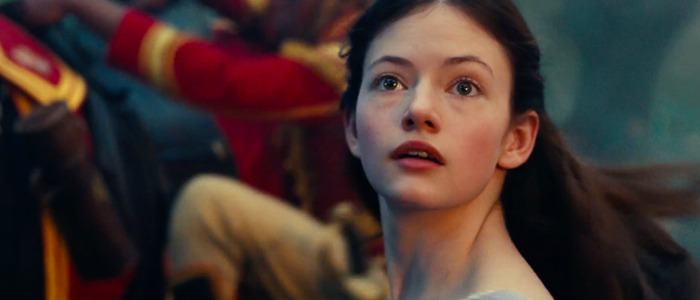 Take a pinch of Alice in Wonderland, a dash of the Chronicles of Narnia, and some Morgan Freeman voiceover, put them in a blender, and you'll get Disney's The Nutcracker and the Four Realms, a fantasy film based on E.T.A. Hoffmann's fairy tale and the famous Tchaikovsky ballet. The final trailer for the film has arrived, whisking us into a magical dimension full of snowflakes, flowers, sweets, and Keira Knightley doing a weird baby-talk voice as the Sugar Plum Fairy.
The Nutcracker and the Four Realms Trailer
It's clear that this trailer is attempting to recapture the magic of the Narnia movies: a secret princess discovers her true identity in a snowy, magical world she discovers through a hidden portal. And the Alice in Wonderland references are just as easy to spot: Helen Mirren's essentially playing a more disheveled version of the Queen of Hearts, ruling over some odd, egg-shaped Tweedledee and Tweedledum-style characters.
Director Lasse Hallstrom (What's Eating Gilbert Grape?, A Dog's Purpose, Safe Haven) shares directing credit with Joe Johnston (Captain America: The First Avengers, The Rocketeer) on this movie because Johnston came in to direct 32 days of reshoots which Hallstrom couldn't direct due to scheduling conflicts. It's especially interesting that there's so much of a Narnia vibe here, given that Johnson's supposed swan song as a director is supposed to be a film adaptation of The Chronicles of Narnia book The Silver Chair, which is said to be a soft reboot of the movie series.
Here's the official synopsis for The Nutcracker and the Four Realms:
All Clara (Mackenzie Foy) wants is a key – a one-of-a-kind key that will unlock a box that holds a priceless gift. A golden thread, presented to her at godfather Drosselmeyer's (Morgan Freeman) annual holiday party, leads her to the coveted key—which promptly disappears into a strange and mysterious parallel world. It's there that Clara encounters a soldier named Phillip (Jayden Fowora-Knight), a gang of mice and the regents who preside over three Realms: Land of Snowflakes, Land of Flowers and Land of Sweets. Clara and Phillip must brave the ominous Fourth Realm, home to the tyrant Mother Ginger (Helen Mirren), to retrieve Clara's key and hopefully return harmony to the unstable world.
Starring Keira Knightley as the Sugar Plum Fairy, Disney's new holiday feature film "The Nutcracker and the Four Realms" is directed by Lasse Hallström and Joe Johnston, and inspired by E.T.A. Hoffmann's classic tale.
The Nutcracker and the Four Realms hits theaters on November 2, 2018.