'BoJack Horseman' Season 5 Trailer: This Is Going To Be A Sensational Season Of Television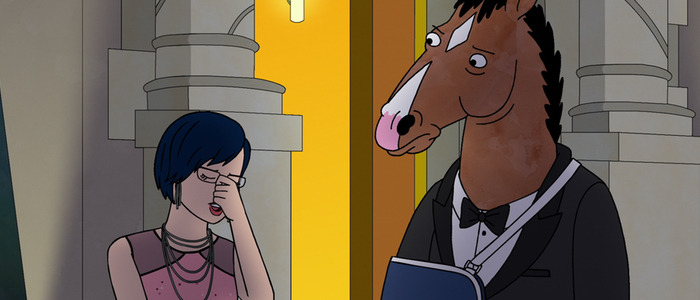 BoJack Horseman, one of the most accurate representations of depression, anxiety, and mental illness in general that also happens to be about a cartoon horse-man, is coming back for an all-new feel-bad season. Watch the BoJack Horseman season 5 trailer below!
BoJack Horseman Season 5 Trailer
BoJack Horseman, everyone's favorite self-destructive, self-hating anthropomorphic horse actor, is back for another hilarious-but-depressing season of TV. I'll confess it took me a little while to climb aboard the BoJack Horseman hype-train. I had assumed it was just another silly adult-oriented animated series, and nothing more. Then I sat down and watched it, and was blown away. Somehow, this cartoon, which is set in a world full of humans and human-like animals, has turned into one of most accurate, biting, and emotionally resonate depictions of what it's like to live with depression. Through four seasons now, BoJack has turned the trials and tribulations of its titular horse and the people around him into a deft blend of comedy and pathos, and the new season is set to continue that trend.
Season 5 finds BoJack dealing with his insecurities and instabilities yet again, as he stars in a new TV series, Philbert. Will this be the season BoJack finally gets his shit together and learns to better himself as a person? You'll have to wait and see, but the outcome doesn't look so good. Here's the statement about the new season released by creator Raphael Bob-Waksberg, which points out the most important element of the new season is Diane's new haircut:
All right, season five of BoJack Horseman, here we go. Has it really been five seasons? Where does the time go, huh? Anyway, this season finds BoJack starring in a new TV show called Philbert, playing a character with disturbing parallels to BoJack's real life, echoes that force BoJack to confront himself and his past in ways large and small, but the main thing that happens this season is Diane gets a haircut. We spent a lot of time figuring out the haircut — the style, the volume, the bounce, the sheen — and we're really proud of the way it came out. We really think people are going to like this new season, and Diane's new haircut!
Will Arnett, Alison Brie, Amy Sedaris, Paul F. Tompkins, and Aaron Paul are all back for the new season, with a whole new set of guest voices that are better left a surprise.
BoJack Horseman season 5 debuts on Netflix September 14, 2018.