Dragon Con Is The Anti-San Diego Comic-Con And A Mardi Gras For Nerds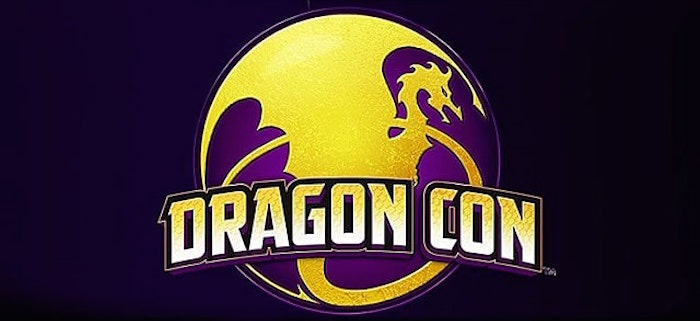 Atlanta's Dragon Con, a five-day event that took place this Labor Day weekend, is the antithesis of San Diego's Comic-Con (SDCC). Where SDCC is industry-led and full of exclusive events, Dragon Con is fan-led and has at least two or three themed parties a night, which are open to all attendees. Dragon Con is one big party, really. A Mardi Gras for nerds. And despite the lack of industry presence, the con is chock full of special guests and panels that cater to fandoms, from Filk to The X-Files to the Marvel Cinematic Universe.
So how exactly does Dragon Con differ from SDCC? Let me count the ways...
The Location
SDCC, like most cons, takes place at a convention center (although it has bled into the surrounding streets of San Diego over the past few years). Dragon Con, however, despite having more than 80,000 attendees, has no single centralized space that houses everything. All the panels, parties, vendor halls, artist alleys, and gaming rooms take place in seven separate buildings (five of which are hotels) clustered in downtown Atlanta. Similar to SDCC, the streets can get crowded, but the heaviest traffic (at night, at least) is in the hotel lobbies, where people gather to drink and take in the cosplay.
The Cosplay
You can't talk about Dragon Con without talking about the cosplay; well over half of the attendees dress up in some sort of outfit at some point during the con. There is also an entire fan-led track dedicated to costuming, and it's clear from the more elaborate outfits that hardcore cosplayers flock to this con in droves. And yes, I know that SDCC has lots of cosplayers as well. But unlike Comic-Con, the cosplayers at Dragon Con far outnumber the nerds in civilian clothing. A number of attendees also coordinate their cosplay, and the number of groups going around in costume is impressive. On a given night of the con, one might see a gaggle of Yip Yips scurrying across the hotel lobby, a flock of porgs posing for photos, or a crew of dancing inflatable T-Rex dinosaurs bouncing across the floor. There are also several costume contests and events throughout the weekend, including the Friday Night Costume Contest, Masquerade, and Project Cosplay.
Did I Mention It's Mardi Gras For Nerds?
Dragon Con combines cosplay with lots of alcohol, which is the recipe for a nerdy, Mardi Gras-like atmosphere. We've talked about the cosplay, now let's talk about the booze. Let's say you're going to an 11:00 A.M. panel on Steampunk Teapot Racing, and you crave a beer. At most cons, that would be an issue. At Dragon Con, however, it's no problem! Each hotel lobby is flush with bartenders on every floor just waiting for your order, and you can take your drink from hotel to hotel as long as you travel via skybridge instead of going outside. Not going to panels but want a bit of a buzz before you shop the vendor floors (there were three vendor floors this year, plus an additional fourth floor dedicated to Artist Alley)? Don't worry! There's a full-service bar right after you walk into America's Mart. But perhaps you want a snack, but can't imagine eating something without alcohol? You're in luck! This year, the Hilton heard your cry and provided alcoholic ice cream.
And then there are the parties. There are several "official" parties each night, which are loosely themed around some fandom. Some of the parties this year were The 8-Bit Bash, Wakanda Welcomes the World to Dragon Con, and Yule Ball. Most of these get-togethers take place in a hotel ballroom, and all these events are open to all attendees.
One of the biggest Mardi Gras-like celebrations, however, doesn't take place at night and doesn't involve as much booze; on Saturday morning, Dragon Con (with permission from the city of Atlanta, of course) hosts a parade, where anyone who can find a spot can cheer the hundreds of attendees who march by in their cosplay finest. 
The Tracks
There is some excellent programming at SDCC; just ask anyone who's been in Hall H for a Star Wars or Marvel panel in the last few years. What SDCC doesn't have, however, are specific tracks that focus on a particular fandom or area of interest. Dragon Con's entire programming is structured on fan-based tracks, where each track has its own core group of volunteers who were responsible for arranging their own events and inviting guest panelists.
For 2018 there were at least 36 fan-based tracks (examples of tracks include Anime/Manga, Fantasy Literature, Star Wars, Puppetry, and Table Top Gaming) that provided approximately 3,500 hours of content. Each track has its own sub-community within Dragon Con; they each use the same rooms for panels, and followers of a track often see the same faces at different events that the track hosts. The breadth of these tracks is why Dragon Con is known as a place where all types of nerds can celebrate their disparate types of nerdiness, as well as find others who share their particular kind of fandom. And if there's too much for you to see while at the con (a very likely thing), you can also turn to Dragon Con TV, another fan-led effort that streams panels on hotel channels during the convention and, for an extra $10, lets members replay the panels online for the three months after the con.
And Then There Are the Little Things…
While Dragon Con has grown significantly in size over the last five years, the event still provides certain touches that are difficult to do at a larger and more expansive con like SDCC. For example, all the rooms and places where parties take place have water coolers set up so anyone can hydrate themselves for free (something especially important if drinking is involved). And in the Hyatt, Dragon Con still hosts a "Con Suite," a tradition where any attendee can get a bit of free food to tide them over if that $7.00 stale slice of pizza doesn't seem worth the money.
Another small (or not so small) thing that SDCC goers can appreciate is that badges for Dragon Con don't sell out; people can still come on Saturday and get a day pass for the con, something that hasn't been possible at SDCC for several years. And while Dragon Con won't likely attract the likes of Robert Downey Jr. or Tom Cruise anytime soon, attendees still get the chance to take their picture with well-known stars like Karen Gillian of Doctor Who and Guardians of the Galaxy fame or with numerous members of the casts of Black Lightning or The Expanse.
So if SDCC is too much for you, or if you're looking to dive deep into a specific fandom of yours, give Dragon Con a go. And if you do attend next year, try dressing up one night, even if you don't think you're into cosplay. You have a year before the next con, which is more than enough time to put together a costume together, so give it a try! You'll thank me, I promise.