New Blu-Ray Releases: 'Deadpool 2', 'Hereditary', 'The Tree Of Life', 'Upgrade', 'The Terror'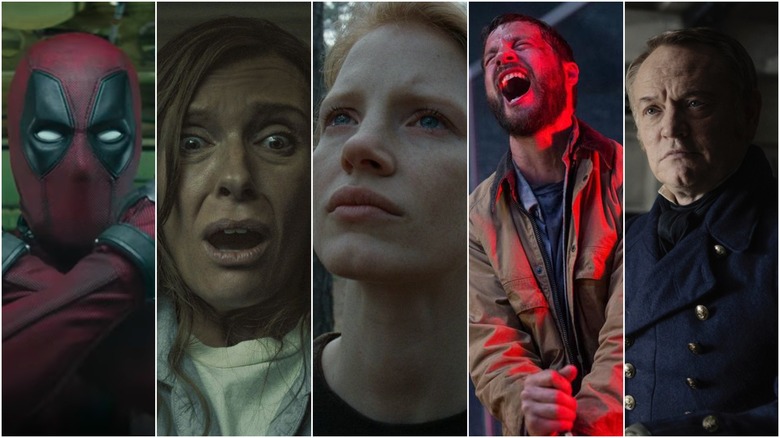 (Welcome to Not Dead Yet, a feature dedicated to new Blu-ray releases and what special features you should be excited about. Because yes, some of us still like to own physical copies of our movies.)
Greeting, physical media phiends. This week's Blu-ray column rounds up some of the must-have titles available to buy right now (or very soon). There's the surprisingly funny Deadpool 2, Criterion's fantastic The Tree of Life Blu-ray, A24's terrifying Hereditary, Leigh Whannell's awesome sci-fi horror flick Upgrade, and AMC's spooky series The Terror.
Here are the new Blu-ray releases and their special features you should check out this week and beyond.
Deadpool 2
I was not a fan of the first Deadpool, so I went into Deadpool 2 with a kind of dread. But, surprise surprise, the sequel was fun, and a big improvement over the first. This is primarily due to the direction of David Leitch, who excels at staging big action beats. The jokes are also funnier, and faster. The first film had to set Deadpool up as a character, since he wasn't as well-known as other comic book heroes. Deadpool 2 is more free to run wild. It helps that the supporting characters are a hell of a lot better here than the first one. Josh Brolin is suitably imposing as sort-of-bad guy Cable, and Zazie Beetz steals the show as Domino. At the same time, these characters are woefully underwritten – it's a testament to Brolin and Beetz's acting skills that they manage to make their parts so vital. I don't really know where the Deadpool franchise goes from here, and this joke – Deadpool breaks the fourth wall and references other comic book movies! – is going to get real old, real fast. For now, though, Deadpool 2 is a success. 
Special Features to Note:
The Blu-ray comes with the "Super Duper Cut", an extended version of the film that adds more jokes. Is it better than the theatrical? In some ways, yes. There are more early scenes with Julian Dennison's Russell Collins/Firefist at the creepy anti-mutant school, and more scenes with Eddie Marsan as the abusive headmaster. These moments go a long way towards explaining Russell's backstory, and adding them back in would've helped make the movie stronger. Beyond that, though, most of the additions here are for extended jokes. There are also a few more scenes of Deadpool trying to kill himself in the beginning of the film, a la Groundhog Day. In short, you can probably stick with the theatrical cut and be fine. The only genuinely amusing addition is the much-talked-about end-credits scene where Deadpool goes back in time to kill baby Hitler. The scene actually plays out longer than has been reported: Deadpool moves in to strangle the baby, and the scene cuts to black. It then cuts back to reveal that Deadpool couldn't go through with the deed, and is cradling baby Hitler in his arms. He then says he's going to go get Cable, since Cable "loves" killing children.
Other features include two deleted scenes: one where Deadpool attempts to kill himself on a park bench next to old people, but is stopped by Colossus; the other is the Hitler ending, which is included in full on the super duper cut, so it's not much of a deleted scene, all things told. There's a behind-the-scene featurette about the story of the film, how the filmmakers wanted to grow Deadpool as a character from the first film, and make the seuqel a "family film". In another feature, director David Leitch talks about coming in to helm the film, saying Ryan Reynolds wanted him to make a "big superhero movie with personal stakes." The most interesting feature is devoted to the lengths the cast and crew went to avoid leaking spoilers online, particularly about the abrupt death of the X-Forces and the appearance of the Juggernaut. For the most part, everyone did a great job, since neither of these spoilers managed to leak before the film's premiere.
Special Features Include:
Gag Reel
Deleted/Extended Scenes
Until Your Face Hurts: Alt Takes
Deadpool's Lips are Sealed: Secrets and Easter Eggs
The Most Important X-Force Member
Deadpool Family Values: Cast of Characters
David Leitch Not Lynch: Directing DP2
Roll with the Punches: Action and Stunts
The Deadpool Prison Experiment
Chess with Omega Red
Swole and Sexy
"3-Minute Monologue"
Audio Commentary by Ryan Reynolds, David Leitch, Rhett Reese and Paul Wernick (Theatrical Version Only)
Deadpool's Fun Sack 2
Stills (28 Images)
Hereditary
Now that all the hype has died down, can we finally admit the truth about Hereditary? And by that I mean: it's scary as hell and one of the best movies of the year. That's right – this is one of those rare instances where a movie lives up to the hype, and then some. Ari Aster's directorial debut is controlled and creepy, a film that starts off as a family drama and then transforms into something terrifying and cruel. Some people have interpreted Hereditary as a movie about grief using horror movie trappings, but I don't think that's entirely accurate. Instead, I think what Aster is doing here is making the audience think this is a movie about grief, but what it's really about is the horror of inevitability. The family at the center of the film are doomed, and no matter what they do – no matter what action they take – there's no escape. Toni Collette is as phenomenal as you've heard, going above and beyond as the frantic, furious matriarch, and Alex Wolff is equally great as her traumatized son. Drawing on films like Rosemary's Baby and The Exorcist, Hereditary is a modern horror classic.
Special Features to Note:"Cursed: The True Nature of Hereditary" is a 20-minute making-of feature, and fairly concise. Ari Aster and company walk us through the production of the film, from casting, to acting, to special effects, to the score. Aster talks about how he approached it as a family drama that unravels into a nightmare, and Colette and Wolff both talk about the demanding natures of their roles. One interesting revelation from this featurette: Collette comments that Gabriel Byrne's character was actually her character's psychiatrist, and they ended up starting a relationship after the therapy ended. This bit of info isn't actually mentioned in the film, but adds a whole new dimension to the story. There are also a handful of deleted scenes. If you're hoping for even more scares from these cut moments, let me stop you right there. There's nothing here involving horror, just quieter character moments. Here they are, broken down:
An extra scene between Wolff's Peter and Colette's Annie after Annie's mother's funeral, where things are very awkward between mother and son. This is an early hint that the relationship between Peter and Annie is strained, even before all the horror starts happening.
A quick moment before the party that will lead to the death of Charlie, Peter's sister. Charlie doesn't want to go into the party, and would prefer to wait outside. Peter talks her into coming in.
After Charlie's funeral, wPeter hides in the bathroom, running water  and listening to a voicemail message Annie left the night Charlie died.
Peter is restless, suffering from insomnia, so he goes out to try to sleep in the tree house. He's just settled down and is about to drift off when he discovers Annie is in the tree house as well, snoring. Shocked, Peter flees.
Gabriel Byrne's Steve asks Peter if he wants to talk to a therapist about what's going on, and Peter basically blows it off.
The best deleted scene involves Steve and Peter in a big, emotional moment. This would've given Byrne a bit more to do in the film, and I wish it had been kept. After the infamous dinner table blow-up scene, Steve and Peter sit in Peter's bedroom, and Peter has a complete emotional breakdown. Sobbing, he says he wishes he had died instead of Charlie, and that he's worthless. Alarmed, Steve tries to comfort him, to no avail. While this unfolds, the scene cuts to Annie, awake in bed. She starts crying. It's an emotionally wrenching moment, and I'm surprised it didn't make it into the theatrical cut.
After the seance scene in which Annie contacts Charlie, Steve takes Annie outside and blows-up at her, demanding she see a therapist.
An extended sequence where we watch Annie destroy the models she has been working on for most of the movie. 
Special Features Include:
Deleted Scenes
"Cursed: The True Nature of Hereditary" Featurette
"Evil in Miniature" Photo Gallery
(Available September 11)
You can draw a clear line cleaving the first half of Terrence Malick's career from the second. That line begins at The Tree of Life. Everything Malick made before this gorgeous, ponderous 2011 film has at least the semblance of plot, of narrative, of story. Yes, there are plenty of earthy, spiritual, abstract moments in Malick's early films, but he's also still trying to tell a story with a clear beginning, middle and end. The Tree of Life changed all that, and Malick hasn't looked back since. In fact, everything after Tree of Life has just become more abstract, more formless. The Tree of Life is the best of these later films, though. Yes, it's hard to interpret, and yes, it might try your patience if you're not in the mood. But everything on display here is so beautiful, so rapturous, that it's hard not to get swept up. On the surface, The Tree of Life is the story of a man (Sean Penn) looking back on his boyhood with his loving mother (Jessica Chastain, phenomenal here, giving a performance that launched her into a major star), and his demanding father (Brad Pitt). But in between all that, Malick is telling the story of life itself, going all the way back to the Big Bang, traveling through time to show dinosaurs, and intercutting moments that may be dreams, visions or something else entirely.
Special Features to Note:
Included on this new, essential Blu-ray from Criterion is an extended cut of the movie, adding 50 more minutes. Criterion technical director Lee Kline said (via IndieWire) that this new cut isn't an "extended edition", but rather "another version", as in a completely different movie entirely. I'll have to respectfully disagree. While this new Tree of Life is certainly longer, it is, when you get right down to it, the same movie. That said, I actually think the extended cut is the superior version of the film, giving it more room to breathe, and allowing Malick's visuals more time to awe.
Beyond the extended cut, there's 30-minute documentary from 2011 about the making of the film and about Malick's work in general, with interviews with filmmakers like Christopher Nolan and David Lynch. The general gist here is that movie is almost impossible to describe, and how unconventional Malick's approach is. The best feature is a lengthy new interview with Jessica Chastain, in which she talks about her experiences on the film. (As an added bonus, Chastain is so soft spoken here that this featurette doubles as a great ASMR video). The actress talks about how the character description was "otherworldly" and from "another time", which she was happy about because she wasn't having luck with "modern" projects at this point in her career. She goes on to describe Malick as someone who is always searching, curious about life, and the afterlife.Chastain's audition involved acting like she was "putting a baby to sleep", and she was also instructed to "look at someone with love and respect." To help her out with this, she was given a photo of Ethan Hawke to look at (a fact the actress finds incredibly amusing as she's recounting it). Chastain goes on to say that being in the film was like being in a dance troupe, with everyone working together as one. For her extensive voice over narration in the film, Malick would send her pages upon pages of script, and she would have to go somewhere to record it on her own. At one point she actually went to a Guitar Center to record some of this narration. The Guitar Center was in Pasadena, California, and if it's still standing, I urge the owners to hang a plaque that reads JESSICA CHASTAIN RECORDED TREE OF LIFE V.O. WORK HERE. 
Special Features Include:
New 4K digital restoration, supervised and approved by director Terrence Malick and cinematographer Emmanuel Lubezki, with 5.1 surround DTS-HD Master Audio soundtrack
New extended version of the film featuring an additional fifty minutes of footage
Exploring "The Tree of Life," a 2011 documentary featuring collaborators and admirers of Malick's, including filmmakers David Fincher and Christopher Nolan
New interviews with actor Jessica Chastain and senior visual-effects supervisor Dan Glass
New video essay by critic Benjamin B about the film's cinematography and style, featuring audio interviews with Lubezki, production designer Jack Fisk, and other crew members
New interview with critic Alex Ross about Malick's use of classical music
Video essay from 2011 by critic Matt Zoller Seitz and editor Serena Bramble
Trailer
PLUS: An essay by critic Kent Jones and (Blu-ray only) a 2011 piece on the film by critic Roger Ebert
Upgrade
A brutal, bloody, funny sci-fi action flick, Upgrade is one of the year's most entertaining films. Leigh Whannell, of Saw and Dead Silence fame, writes and directs the story of a man (Logan Marshall-Green) who is paralyzed after thugs attack him and kill his wife. Since Marshall-Green's character just happens to live in the future, a weirdo tech innovator is able to surgically implant an AI chip that will enable Marshall-Green to walk again. He goes through with it, only to discover the AI – named STEM – can talk to him. It can also help him exact graphically violent revenge against his wife's killers. This all sounds like it could've made for a gloomy, dreary, unpleasant film, but Whannell manages to bring a playfulness to the proceedings that make Upgrade truly special.
Special Features to Note:
There are zero special features on this Blu-ray, and I'm not happy about it. I'm also not happy about the fact that the digital copy does have a special feature – a commentary from Whannell. Why isn't this commentary included on the Blu-ray? I know the answer, of course: studios want to phase out physical media and force viewers to stick to digital, beacuse it would be much cheaper. But I remain a die-hard phsyical media fan, and I'll stick with it as long as I can.
That said, the commentary track is an absolute delight. Whannell is hilarious, and spends most of his commentary both pointing out great behind-the-scenes tidbits, and also mocking other, terrible commentary tracks from other filmmakers, pointing out how so many directors seem to just narrate the movie, or remain silent for long stretches.
There's a ton of great detail here – the filmmaker talks all about how he made such an expensive-looking film for a very low budget, and offers up advice on camera techniques and special effects. It's like a very funny film school lecture, and well worth your time.
Special Features Include:
Nothing! Except for the digital copy, which comes with commentary.
The Terror
If you missed The Terror on AMC, you missed one of the year's best, and creepiest, shows. Thankfully, The Terror is now available on Blu-ray. Based on the novel by Dan Simmons, The Terror is inspired by the true story of Sir John Franklin's doomed expedition to find the Northwest Passage. Franklin, his men, and the two ships in the party – the Terror and the Erebus – really did vanish off the face of the earth. The Terror adds a supernatural element to the story, positing that the men were picked-off by a monster (and also each other, as things got truly dire). Blending a harsh wintery landscape, utter hopelessness, and monstrous attacks with the sense of exploration and honor and duty, The Terror is like John Carpenter's The Thing meets Master and Commander: The Far Side of the World.
Special Features to Note:
There are three special features here, all of them brief. One goes into the backstory of the main characters, but since this is an ensemble show and there are dozens and dozens of characters to focus on, most of them get short-changed. Another featurette delves into the story, with star Jared Harris commenting that there have been more successful voyages to the moon than through the Northwest Passage, which gives you a great idea of how dangerous (and perhaps foolish) such an endeavor is. The final feature involves executive producer Ridley Scott waxing about the series, and how it blends fact and fiction. All in all, these features aren't stellar, but the series itself is such a masterpiece that The Terror is a must-have.
Special Features Include:
A Look at the Characters Featurette
A Look at the Series Featurette
Ridley Scott on The Terror Featurette