Star Wars Bits: Some Serious 'Star Wars' Comics Reveals, Oscar Isaac Talks 'The Last Jedi' Backlash, And Han Solo's Empire Days Revisited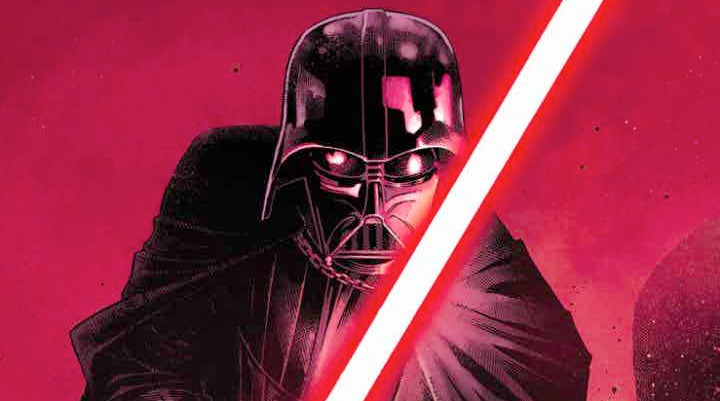 In this edition of Star Wars Bits:
Some Darth Vader origin secrets are revealed
Han Solo goes back to the Imperial Academy in a new comic
Oscar Isaac opens up about Carrie Fisher's return
A shocking reveal about the ending of Solo
And more!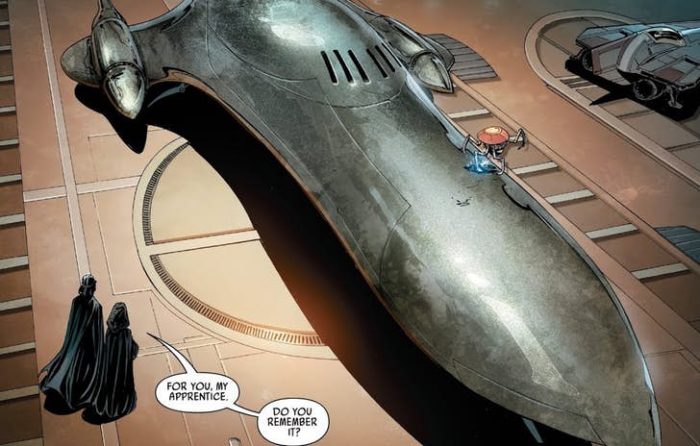 One of the biggest reveals from Rogue One was that Darth Vader lives in a huge, threatening-looking castle on the black sands of Mustafar. This left many fans asking just how he ended up there. Well, in Darth Vader #20 all is revealed, and it's not for the reasons that many fans would assume. This issue also holds a pretty heartbreaking Phantom Menace easter egg. In fact, if you're a Vader fan, it's definitely worth picking up the ongoing series by Soule, Camuncoli, Orlandini, and Curiel as it's building up some very interesting lore around just what's driving Vader after Revenge of the Sith.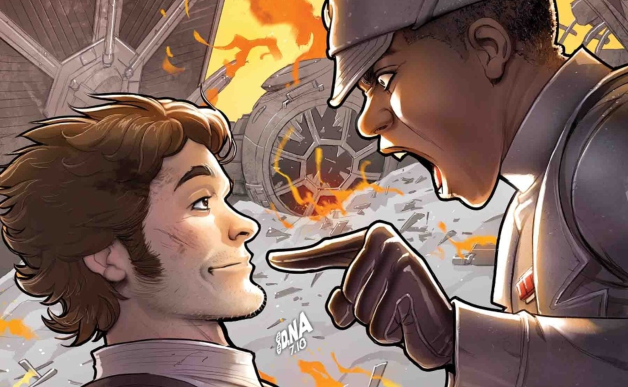 More Star Wars comics news was revealed in the solicits for November, as we learnt that Han Solo will be getting a mini-series focused on what went on during Han's time with the Empire. Star Wars: Han Solo – Imperial Cadet will hit shelves on November 7 and it's written by Robbie Thompson with art by Leonard Kirk.
Ticket Update: Adult Friday tickets are now 90% SOLD OUT. Make sure to secure yours before they're gone forever. https://t.co/foFuFORG4g #SWCC #StarWars #StarWarsCelebration pic.twitter.com/P8xPC7RCLE

— StarWars Celebration (@SW_Celebration) August 24, 2018
If you're still hoping to make it to Star Wars Celebration 2019, then you better get your tickets fast. According to the official Celebration Twitter account, adult tickets are 90% sold out! The huge festival of all things Star Wars is hitting Chicago for the first time, and will likely be packed full of announcements about Episode IX!
Tom Kane said on his Facebook that he recorded lines for 5 new The Clone Wars episodes yesterday. That gets me so pumped. pic.twitter.com/APCFsbomxo

— Corey Van Dyke 🥽 (@Corey_WolfPack) August 17, 2018
Everyone is excited for the return of the classic animated series Star Wars: The Clone Wars and it sounds like certain cast members have already returned to the vocal booth to record for their characters. Twitter user Corey Wolf Pack revealed that Yoda's voice actor Tom Kane has already recorded his lines for five episodes! Wait, we cannot.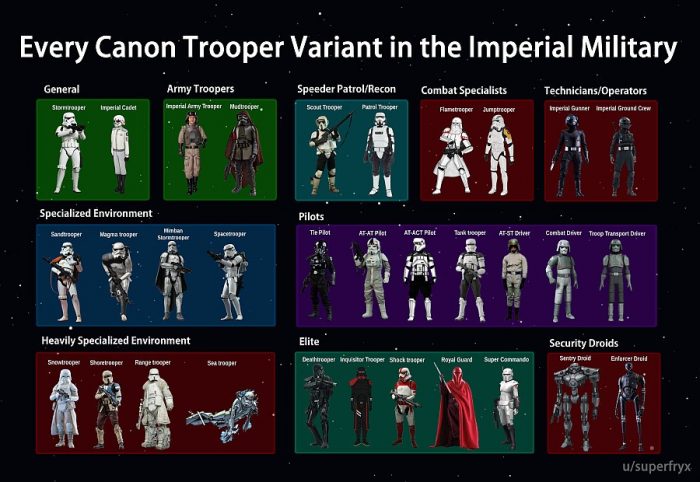 If you ever need a handy list of all the canon troopers in the Star Wars universe, then reddit user SuperFryX has you covered with this easy to read infographic. Shock to Storm, Sea to Space, Flame to Patrol...this has every Trooper you'd ever need to know.
Well, until Resistance introduces some new ones!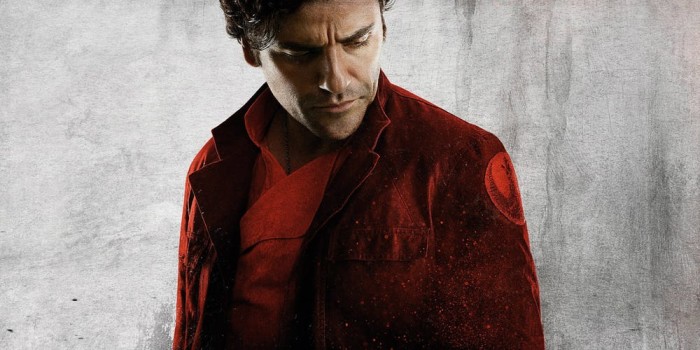 Warning! Oscar Isaac is being heartbreakingly lovely again, this time in an interview with Yahoo! about the controversy surrounding The Last Jedi, with Isaac stating, "What I think is really special about the whole thing – particularly for people that really didn't agree with where the story went – is that it's often a great inspiration to do your own stuff," he says. "Obviously, making your own Star Wars movie is a bit of a tough challenge, but at least from a narrative standpoint maybe you make your own thing and then show what you would want. Make what you would want to see."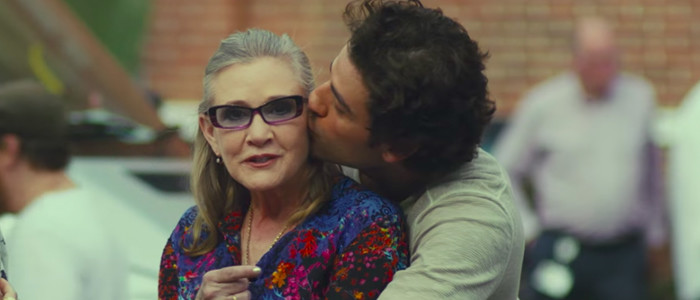 In the same Yahoo! interview, Isaac shared how he felt about the return of Carrie Fisher in Episode IX. Lucasfilm released a statement earlier this year explaining that they would utilize unused footage of Fisher from Episode VII with the blessing of her daughter Billie Lourd. Just like all of us, Isaac was really pleased with the decision. "I'm very happy about that," Isaac says about Abrams' decision to feature Fisher in Episode IX. "I think it'll be a wonderful way to deal with this character that we all love so much."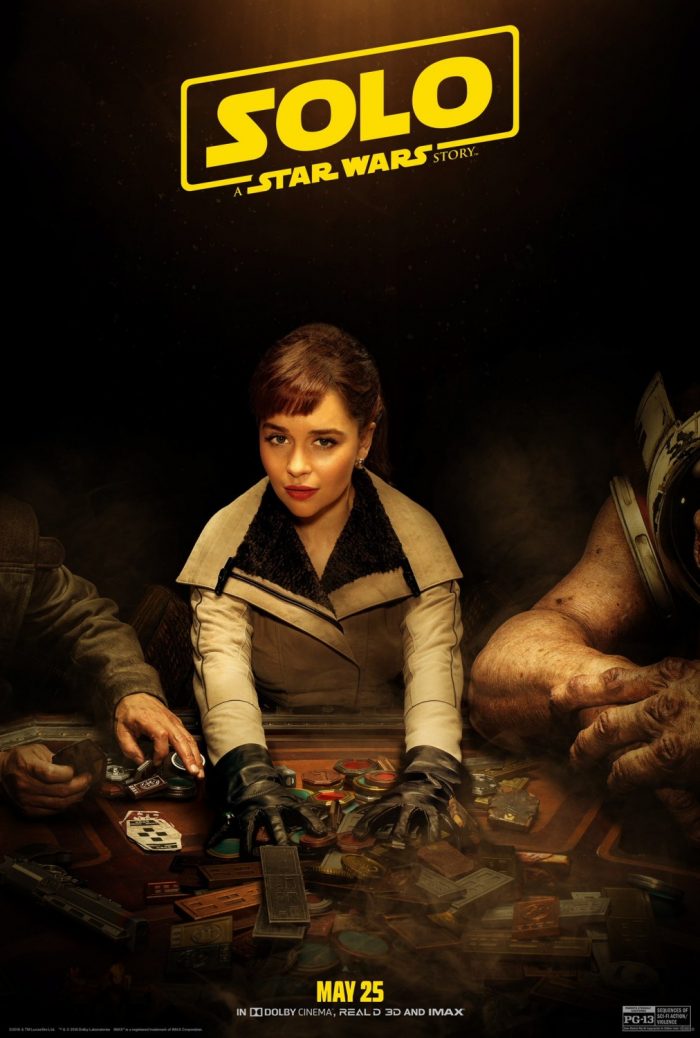 The end of Solo: A Star Wars Story left many fans in shock as it brought back a notorious figure from the prequel era: Darth Maul. However, his name is never mentioned in the film. In a recent interview on StarWars.com with Mur Lafferty, author of the Solo novelization, she says she decided to stick with that version, as she doesn't believe that Qi'ra knew who was on the other end of that call. "I don't think she would have known who he was," Lafferty says. "They sort of implied that Dryden was beholden to someone a lot more powerful than he was. And so she knew that whoever it was scared him, but she didn't know that the guy used to be a Sith Lord. She didn't know who he was. She just knew that that button would call Dryden Vos' boss."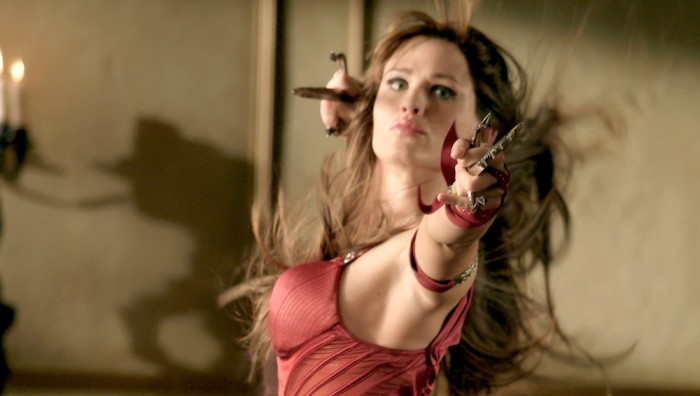 Who doesn't want to be in the franchise far, far away? With the resurgence of Star Wars, pretty much every actor is probably hoping to get a call from J.J. Abrams. In a recent interview with CinemaBlend, Jennifer Garner revealed she would really like to be in Episode IX. "Now that you mention it, I'm gonna have to just call J.J. up and say where's my turn!? I mean, I would do anything with J.J., and Star Wars is Star Wars, but I'm not holding my breath."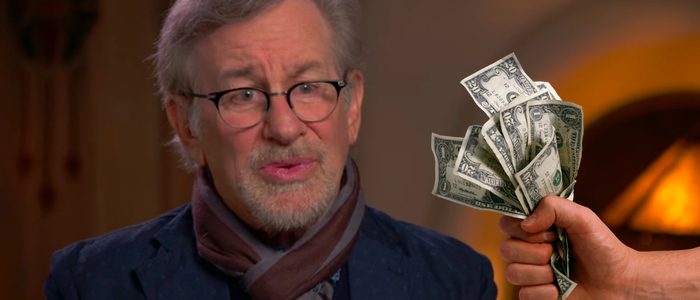 Here's a nifty bit of Star Wars trivia for you. Did you know that Steven Spielberg earns 2.5% of any profits from A New Hope? Well now you do, and as TV Overmind explains it's all because of a friendly deal that Lucas and Spielberg did where they each gave over 2.5% of their films – Close Encounters of the Third Kind and Star Wars – to each other. Allegedly, Spielberg has netted around $40,000,000 from his share, so we're sure he's probably bought Lucas a lot of nice lunches since then.