The 'Cats' Movie Will Go Head-To-Head With 'Star Wars: Episode 9' Next December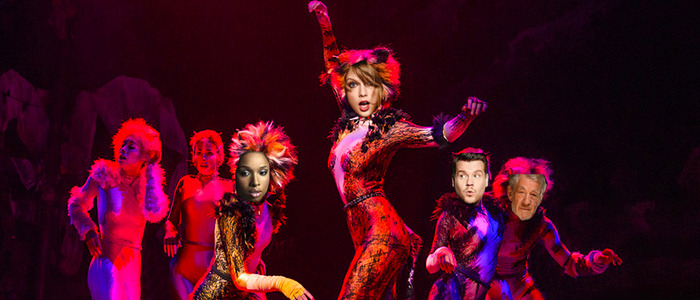 The Cats movie has coughed-up a release date that will put it directly up against Star Wars: Episode 9. There was a time when other studios would flee from a Star Wars release date like a feline during a thunderstorm. But perhaps Universal is feeling frisky after the Solo underperformance. Which means you can now expect Tom Hooper's musical adaptation starring Taylor Swift, James Corden, Jennifer Hudson, and Ian McKellan to give Episode 9 a run for its money at the Christmas 2019 box office. More on the Cats movie release date below.
Andrew Lloyd Webber's Cats, the fourth-longest-running show in Broadway history, is finally pouncing onto the big screen. Big Broadway hits usually take a few years to make the transition from stage to screen – for instance, don't expect a Hamilton movie for a few years – and enough time has passed to make the Cats movie a reality. The musical is going to meow its way into theaters on December 20, 2019.
This date is significant for two reasons.
One: Universal was originally planing to release another Broadway adaptation on this date – Wicked, the musical re-telling of The Wizard of Oz from the point of view of the Wicked Witch.
Two: December 20, 2019 is the official release date of Star Wars: Episode 9.
A few years ago – back when The Force Awakens was coming out – a major studio going up against Star Wars might be considered box office suicide. But things have changed. Last year, Sony had huge success putting Jumanji: Welcome to the Jungle up against The Last Jedi. And this year, Solo: A Star Wars Story underperformed (but was by no mean a flop, despite what folks on YouTube might say).
These two factors are likely playing a big part in Universal's decision to release Cats on 12/20/2019. The holiday season is also big on musical movies – Les Miserables, another musical adaptation from Tom Hooper, opened on December 25, 2012. The adaptation of Chicago hit theaters December 27, 2002. And last year, The Greatest Showman danced onto the screen on December 20.
As for Wicked, Universal has not set a new release date for it. Stephen Daldry, who has long been attached to direct the movie, is no longer mentioned in the official release from Universal. This indicates Wicked might be going through some serious retooling, and looking for a new director to boot.
Here's the Cats musical synopsis, which will likely be the same for the film, but with a lot more extreme close-up shots, as that seems to be Tom Hooper's favorite thing in the world.
This all-dance show's action is set on a gigantic rubbish dump which, after dark, becomes alive with cats of all types, shapes and sizes. Soon there are cats all over the place, including the auditorium, gathering for the Jellicle Ball during which one cat will be selected by the Jellicle Leader and allotted an extra precious life.