Rumor: 'Spider-Man: Far From Home' May Feature Another Obscure Villain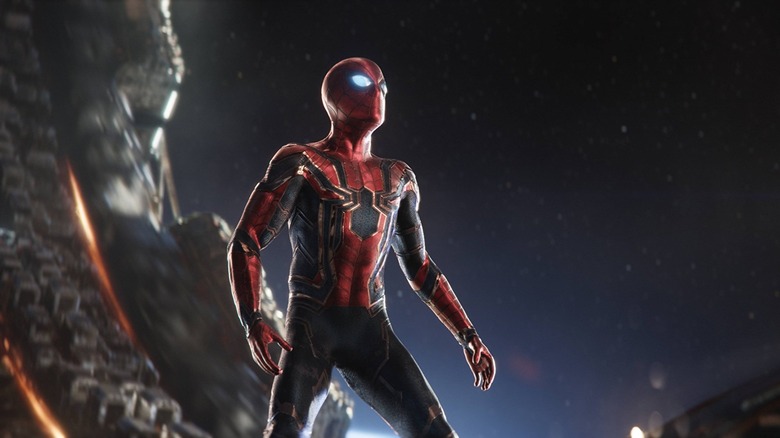 The rumor mill is at full throttle as Spider-Man: Far From Home continues filming in the U.K. And while set photos and videos have hinted at the plot and characters of the upcoming Marvel film, the latest rumor actually spawns from a toy. A new villain toy, to be exact.
Another Spider-Man: Far From Home villain may be added to the potent mixture of multiple villains that the movie is already juggling. And die-hard fans of the friendly neighborhood Spider-Man may recognize this baddie.
Spider-Man has a truly impressive rogues gallery — so much so that Sony is trying to craft a whole cinematic universe revolving exclusively around Spidey's villains. So you can't fault the Spider-Man movies for trying to stuff in as many villains as possible. That ultimately became the downfall of the notorious Spider-Man 3, which featured a total of three Big Bads. But Spider-Man: Far From Home might just outdo that.
Spider-Man: Far From Home is rumored to feature several baddies including Mysterio, Vulture, and maybe even Chameleon. But along with rumors of Hydro-Man making an appearance, an equally obscure villain may also be added to the film's ranks: Molten Man.
According to a report from MCU Cosmic, Molten Man might appear in the upcoming sequel, and they're basing that report on the character's inclusion in a set of LEGO figures produced for the film. Naturally, take all of this with a grain of salt.
Introduced in 1965's The Amazing Spider-Man #28, Molten Man is a former New York-born scientist known as Mark Raxton who was accidentally exposed to an experimental metallic alloy found in a meteor, giving him the ability to project radiation and produce heat.
There are no specifics on how Molten Man would factor into the plot of Far From Home, or whether he would even play a significant part. But while it's still a little confusing why all of Spider-Man's villains would find their way to Europe, where Peter Parker and his friends are spending summer vacation, Molten Man's inclusion may have an in-comics answer: ScreenRant points out that in the comics, Mark Raxton is the step-brother of Liz Allan (Laura Harrier), Peter's crush in Homecoming who turned out to be Vulture's (Michael Keaton) daughter. Man, this family does not work well with the law.
But of course, this is all secondary to the big question of why Peter is alive when he supposedly 100% died at the end of Avengers: Infinity War. I'm guessing that'll be answered by the time Spider-Man: Far From Home rolls around in 2019.
The cast of Spider-Man: Far From Home includes Tom Holland, returning once again as Peter Parker aka Spider-Man. Also returning from the first film: Michael Keaton, Zendaya, Jacob Batalon, and Marisa Tomei. New cast members include J.B. Smoove, playing an undisclosed character, and Jake Gyllenhaal, who is currently in talks to play Mysterio.
Spider-Man: Far From Home opens in theaters on July 5, 2019.