Trailer Round-Up: 'Air Strike,' 'My Dinner With Hervé', 'Await Further Instructions', And More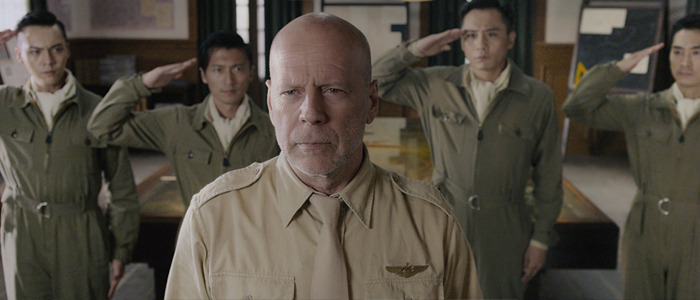 Sometimes trailers slip through the cracks, ready to be lost in the digital ether like tears in rain. But not on our watch – not today. We've rounded up a few recent trailers for you to check out below: a Bruce Willis/Adrian Brody joint called Air Strike, Peter Dinklage in an HBO original called My Dinner with Hervé, Game of Thrones' David Bradley in a horror film called Await Further Instructions, a German thriller called Four Hands, an alien abduction story called Beyond the Sky, and more.
Let's kick things off with Air Strike, a movie that sadly looks like something we've seen 100 times. I've played video games with better effects than these, but I'll give it credit for somehow convincing Bruce Willis to yell "whooo!" in the cockpit of a fighter plane. That's the most excited I've seen him in years.
Airstrike hits select theaters and On Demand services on October 26, 2018.
This teaser for My Dinner With Hervé features Peter Dinklage playing Hervé Villechaize, the actor who appeared on the popular TV series Fantasy Island and played Scaramanga's henchman in the James Bond film The Man with the Golden Gun. I admittedly don't know anything about the man's life off screen, so this should be an enlightening (and from the look of it, entertaining) exploration from director Sacha Gervasi (Anvil: The Story of Anvil).
My Dinner with Hervé hits HBO on October 20, 2018.
Here's a trailer for Beyond the Sky, a low-budget abduction thriller about a skeptical filmmaker who tries to make a documentary proving aliens aren't real. Spoiler alert: they are! Ryan Carnes, Jordan Hinson, Peter Stormare, Dee Wallace, Martin Sensmeier, and Don Stark star.
Beyond the Sky will be released on September 21, 2018.
I'm always down for a horror movie set during the Christmas season, and that's exactly what you'll find with Await Further Instructions, a film about an argumentative family who find themselves locked in their own home and forced to participate in a twisted game for survival – with a sci-fi twist.
Await Further Instructions hits select theaters and VOD on October 6, 2018.
Speaking of unconventional Christmas movies, Mexican filmmaker Alonso Ruiz Palacios is back with Museo, a thriller starring Gael Garcia Bernal that tells the true story of the biggest heist in Mexico's history. This reminds me a lot of American Animals, so fingers crossed it turns out well.
Museo (Spanish for "museum") arrives in theaters in New York City on September 14 and Los Angeles on September 28, 2018 before expanding to wider markets.
Ash Mayfair's feature directorial debut The Third Wife is set to debut at this year's Toronto International Film Festival, and The Playlist has the exclusive trailer. Here's the synopsis:
In the late 19th century in rural Vietnam, fourteen-year-old May is given away in an arranged marriage and becomes the third wife to her older husband. May learns that she can gain status and security if she gives birth to a male child. This becomes a real possibility when she gets pregnant. However, her path is fraught with danger when May starts to develop an attraction for Xuan, the second wife. As May observes the unfolding tragedy of forbidden love and its devastating consequences, she must make a choice, to either carry on in silence and safety or forge a way towards personal freedom.
Here's the trailer for a German psychological thriller called Four Hands, which looks intense as hell. Two sisters experience a traumatic event, and when a car accident rips them apart years later, the surviving sister begins to experience some unnerving after effects. This one hits select theaters on September 14, 2018.
And finally, I'll leave you with this trailer for a film I guarantee you've never heard of called My Pet Dinosaur. This lackluster trailer for another Amblin-era nostalgia piece makes me feel like I've already seen the whole movie – but maybe that's at least partially due to the familiar plot and not just the fact that the movie apparently doesn't care about holding anything back. This one already got a release in Australia last year, but there's no word yet on when it might hit U.S. theaters.