'A Star Is Born' Early Buzz: Bradley Cooper And Lady Gaga Have Delivered A Hit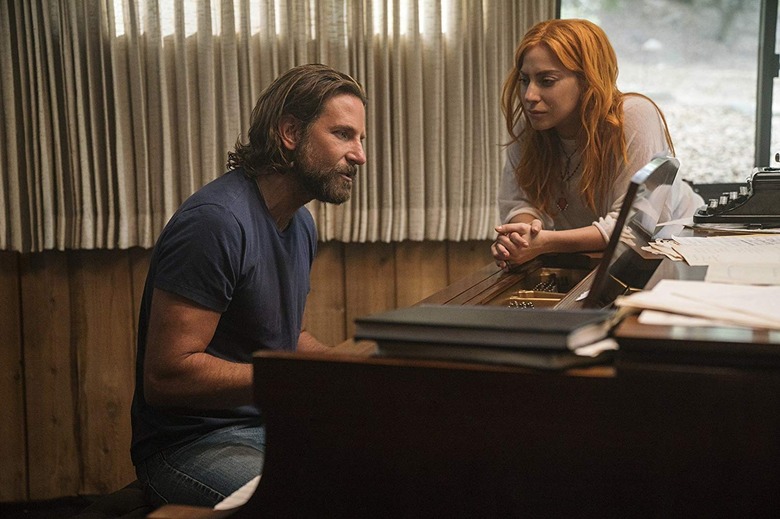 After a glowing review of A Star is Born prematurely hit the web, many wondered whether the Bradley Cooper remake of the cautionary tale of fame and romance could really be that good. The 2018 A Star is Born marks the third (!) remake of the story, so wouldn't the newest film starring Cooper and an untested Lady Gaga creak under the familiar trappings? According to the first reviews coming out of the Venice International Film Festival, it really is that good.
A Star is Born early buzz praises Cooper's directorial debut while gushing about pop star Lady Gaga's first turn as a feature film lead. See what critics have to say about A Star is Born below.
Robbie Collin from The Telegraph marvels that Bradley Cooper, who makes his directorial debut with the remake, "directed a masterpiece on his first try," writing:
B

ut though it hews to a familiar, arguably predictable shape, it does so from an exhilarating ringside perspective. Scenes thump with truth, from the stadium set-pieces, which were shot at a number of real-life gigs including last year's Glastonbury Festival, and have the live-wire fizz of Scorsese's concert films, to the intimate sequences back- and off-stage.
The Guardian's Peter Bradshaw praises Cooper's "outrageously watchable update" of the familiar story and praises Lady Gaga's leading role in particular:
Cooper directs and co-stars in this outrageously watchable and colossally enjoyable new version, supercharged with dilithium crystals of pure melodrama. He appears opposite a sensationally good Lady Gaga, whose ability to be part ordinary person, part extraterrestrial celebrity empress functions at the highest level at all times.
Owen Gleiberman at Variety calls A Star is Born "a total emotional knockout" and a "a reminder of the scrappy grand passion that movies are all about," gushing:
"A Star Is Born" is that thing we always yearn for but so rarely get to see: a transcendent Hollywood movie. It's the third remake of a story that dates back to 1937, but this one has a look and vibe all its own — rapturous and swooning, but also delicate and intimate and luminous. It's set in the present day, but in spirit it's a sophisticated retro '70s drama built around the uncanny flow of feeling that develops between the movie's two stars: Bradley Cooper, who plays Jackson Maine, a hard-drinking, bad-ol'-boy redneck rock 'n' roller who is still hanging on as a popular attraction but has lost the lust for what he's doing, and Lady Gaga, in her fetching and accomplished movie-star debut, as Ally, an ingenuous, fresh-faced singer-songwriter who becomes his lover and stage partner before rocketing on her own into the new pop stratosphere.
The Film Stage's Leonardo Goi praises Lady Gaga's performance in particular, and the "rich metafictional hypertext" that the film builds around her character's rising star:
A Star is Born is not innovative. It does not seek to offer some radical twists and turns to a story that's been dissected and revisited for over 80 years. But it remains a miracle of stage chemistry, a touching portrait of a couple who click to such a wondrous extent to pay justice to the timeless scope of a Hollywood classic. The real surprise here is not Cooper, but Gaga. More than a newly born star, hers never stops growing.
Entertainment Weekly's Leah Greenblatt was a little more muted in its praise, pointing to the familiarity of the story that has been made "four times now and counting":
If the ending is telegraphed from miles away, and the central romance feels more like a gorgeously patina-ed imitation of life than the real thing, maybe that's because Star is less a story now than a myth — not so much reborn as recast, and passed on to the care of the next generation.
Digital Spy's David Opie praises Cooper's talents in his directorial debut, writing that while the story is "well worn, there's a raw honesty to the central relationship that Cooper taps into here," adding:
Even if Cooper wasn't acting, singing and co-writing the script, his direction alone is something to marvel at too. Handling both the frenetic performances on stage and the more intense moments of intimacy with equal assurance, Cooper admirably ensures that the drama of the piece takes precedence over the music, avoiding the usual pitfalls encountered by projects of this nature. Each performance is included to serve the narrative rather than Lady Gaga's pop star ego, and the film as a whole is all the better for it.
Indiewire's Michael Nordine says that A Star is Born "hits the occasional wrong note, but Cooper's directorial debut is still an earworm" thanks to the radiant Lady Gaga:
So why watch "A Star Is Born" in 2018, when Cooper's directorial debut is premiering in Venice as part of a world tour that's clearly meant to crescendo on a certain stage in Hollywood next year? The answer, it turns out, is Gaga. Already a Golden Globe winner for her work on "American Horror Story," the pop star is resplendent as a diamond-in-the-rough singer whose booming voice and subtle expressions would make her predecessors proud. Credit to Cooper for delivering his best, most soulful performance while pulling double duty behind the camera, but it's his co-star whose magnetism most draws you into their world — and keeps you there even when the film hits the occasional wrong note.
ScreenDaily's Jonathan Romney delivered more muted praise, acknowledging that A Star is Born "won't be for everyone":
A Star Is Born won't be for everyone: somewhat resembling a de luxeepisode of TV series Nashville, it may not impress lovers of previous Stars, nor is it likely to appeal to fans of Gaga's outré performance-art persona, a skin she determinedly sheds here. But, taken on its own terms as an unashamedly anachronistic attempt to muster the emotional intensity of the Hollywood melodrama tradition, Cooper's film must be at least grudgingly acknowledged as a success. And both stars, Gaga in particular, emerge with honour. That might not be enough to draw a wide public, although the film could register respectably with older viewers who want old-fashioned romance with a grittier touch than Mamma Mia! and a less artsy one than La La Land.
***
A Star is Born brings a fresh, achingly authentic take on the oft-told story, with Bradley Cooper and Lady Gaga both being praised as the film's standouts. While some critics balked at the film's familiar trappings, it seems that A Star is Born has been crafted to be a crowd-pleaser, and in some reviewers' eyes, a new classic.
A Star is Born, which also stars Andrew Dice Clay, Dave Chappelle, and Sam Elliott, hits theaters on October 5, 2018.