'Miss Sherlock' Trailer: HBO's First Japanese Original Reimagines Sherlock Holmes As A Woman With Wild Hair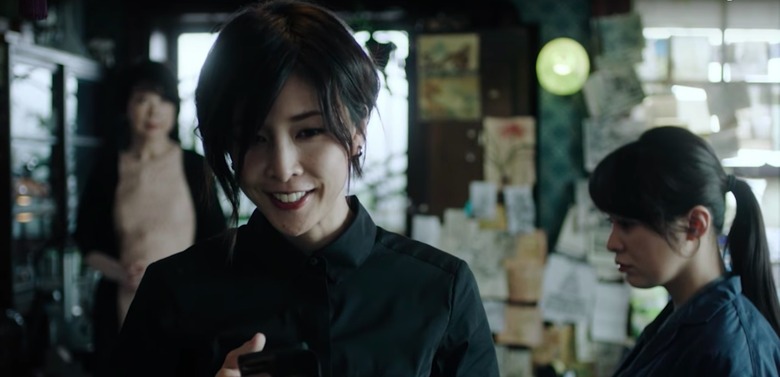 We've had so, so many iterations of Sherlock Holmes as a brilliant, eccentric British detective and the famous Arthur Conan Doyle creation feels long due for an upgrade. And what better upgrade than as a modern Japanese woman with unruly hair and even more unruly social skills?
The Ring star Yuko Takeuchi stars as the modern-day reimagining of the 19th century detective in Miss Sherlock, HBO's first Japanese original series.
Miss Sherlock Trailer
Some fans of Doyle's deer stalker-wearing detective nearly threw a fit when the American TV series Elementary recast his steadfast companion Dr. John Watson as an Asian-American woman played by Lucy Liu. But Miss Sherlock takes things a step further and recasts everyone — including the classic detective — as a Japanese woman. There are some nods back to the original novels and stories of course, but the titular Miss Sherlock Holmes is a British-born Japanese woman who heads to Japan to solve the cases that confound the best police detectives. And her Watson is Dr. Wato Tachibana (Shihori Kanjiya), a female surgeon who has just returned from a medical mission in Syria.
The brief trailer for Miss Sherlock is intense, loaded with twists and shocking amounts of violence. And there's Takeuchi at the center, grinning away in all-black clothes and dark lipstick while her choppy hair hangs over her face. Her anti-social attitude hews close to Benedict Cumberbatch's surly depiction of the famous detective in BBC's modern-day Sherlock, right down to Takeuchi's sleek suits and penchant for gleefully reacting to murder. But Miss Sherlock looks way campier than Sherlock ever dared to be — as Japanese detective dramas are wont to do. I have a soft spot for Japanese detective shows, which can often be convoluted but endlessly fascinating, operating on puzzle-solving premises rather than as straight procedurals. Miss Sherlock looks like it will deliver that, with a touch more blood.
Miss Sherlock is an eight-part series that was co-produced with Hulu in Japan. It will likely be the first of many Japanese originals that come to HBO, as the cable network sets its eyes on expanding its international offerings.
Here is the official synopsis for Miss Sherlock:
The show follows the British-born Miss Sherlock Holmes to Japan, where she meets Dr. Wato Tachibana, a surgeon who has just returned from a medical mission in Syria. The two women spark a friendship and become partners in solving peculiar, perplexing crimes. MISS SHERLOCK retains the essential qualities of Sherlock Holmes, as the investigators employ insightful observation and reasoning skills in their new incarnation as strong women.
Miss Sherlock will be available to HBO's U.S. subscribers across all of the channel's platforms starting September 1, 2018.