See How 'Searching' Immerses You In A Screen-Based Thriller Through A Complex Editing Process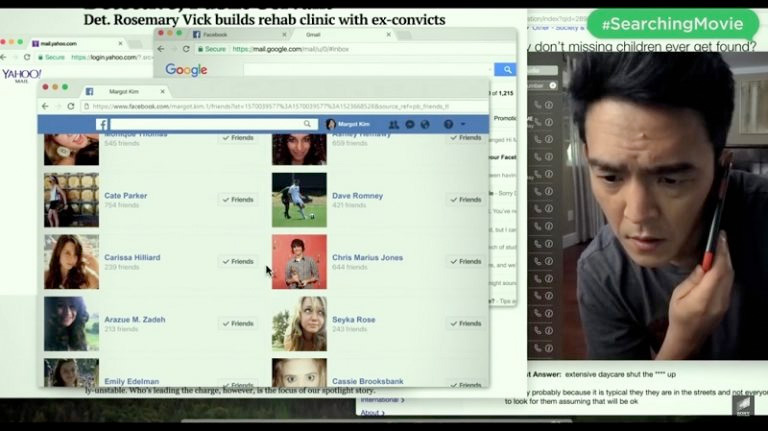 Searching isn't the first movie to be told entirely through computer and mobile screens, but it might be the first movie to take advantage of the narrative format in such a clever and impeccable fashion. Now you can see how the movie came together in post-production and how complicated it is to bring a movie like this to life and make it feel authentic.
The Making of Searching Featurette
It took over a year and half for editors @willmerrick and @rick_dobson to assemble #SearchingMovie. Here's just a TINY sneak peek at all the work it took to create just ONE single shot of the movie. **Searching is in theaters nationwide this Friday!** pic.twitter.com/PgrUcxZT71

— Missing (@SearchingMovie) August 29, 2018
The above video showcases how the graphics and animation are created to make viewers feel like they're watching the story of Searching playing out on the screens of John Cho's computer, cell phone, iPad and other mobile devices. What it comes down to is a lot of graphic design work meant to replicate the experience of looking at a computer screen. Just look at that editing timeline in the video above and see how complex a single shot of this movie is.
One of the things the post-production team of Searching deserves an immense amount of credit for is making the representation of the screens we know so well look and feel like the real thing. It's thoroughly frustrating when a post-production team on a movie creates a phone or computer interface that looks nothing like any real device anyone has in their possession. But this is 100% true to the experience of using these devices, and director Aneesh Chaganty should be proud of his team.
Searching is expanding to a bunch more theaters this weekend, and if you're looking for a suspenseful thriller with plenty of twists and turns, then you should go out of your way to see it this weekend. Our own Ben Pearson has been singing the film's praises since it debuted at Sundance all the way back in January, calling it "an electrifying, emotional, and wildly entertaining thriller" and proclaiming it as one of his favorite movies of the year.
After David Kim (John Cho)'s 16-year-old daughter goes missing, a local investigation is opened and a detective is assigned to the case. But 

37 hours later

 and without a single lead, David decides to search the one place no one has looked yet, where all secrets are kept today: his daughter's laptop. In a hyper-modern thriller told via the technology devices we use every day to communicate, David must trace his daughter's digital footprints before she disappears forever.
Searching is now playing in theaters everywhere.