'Fantastic Beasts: The Crimes Of Grindelwald' Featurette: We Gotta Get Back To Hogwarts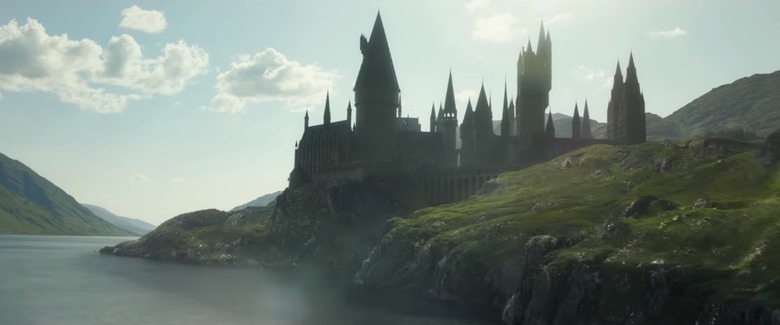 The back-to-school season is descending upon us. So naturally, Fantastic Beast: The Crimes of Grindelwald just released a featurette that takes us back to Hogwarts. So prepare to get back to witches, and wizards, and magical beasts, to goblins and ghosts and to magical feasts. But most importantly, prepare for hot, young Dumbledore to roam those familiar weathered hallways.
Fantastic Beasts The Crimes of Grindelwald Featurette: Hogwarts
"Those names, the stories, the histories that sit in the back of our minds from the Potter series begin to weave their way into Beasts," Fantastic Beasts star Eddie Redmayne muses in the featurette for the second film in the Harry Potter prequel series. But of course, this Hogwarts is not the one we grew to love over eight Harry Potter movies, with Fantastic Beasts taking place 70 years earlier. This is Hogwarts in the 1920s, and...it doesn't look all too different. Other than the clothes by the teaching staff (Jude Law's Dumbledore, sporting the peak of '20s high fashion!) the bright-eyed students in their Hogwarts robes all look oh-so familiar.
"I felt quite sentimental going back to Hogwarts," author and Fantastic Beasts screenwriter J.K. Rowling admits in the featurette.
Hogwarts will probably be the one comforting feature of The Crimes of Grindelwald, which escalates the war that the titular dark wizard (Johnny Depp) is waging against the wizarding community. The second Fantastic Beasts film is set to be darker and more grim than the last — but at least Hogwarts remains untouched, for now.
The film's cast is rounded out by Katherine Waterston, Dan Fogler, Alison Sudol, Ezra Miller, Zoë Kravitz, Callum Turner, Claudia Kim, William Nadylam, Kevin Guthrie, Carmen Ejogo, and Poppy Corby-Tuech.
Directed by David Yates, Fantastic Beasts: The Crimes of Grindelwald opens in theaters on November 16, 2018.
At the end of the first film, the powerful Dark wizard Gellert Grindelwald (Johnny Depp) was captured by MACUSA (Magical Congress of the United States of America), with the help of Newt Scamander (Eddie Redmayne).  But, making good on his threat, Grindelwald escaped custody and has set about gathering followers, most unsuspecting of his true agenda: to raise pure-blood wizards up to rule over all non-magical beings.
In an effort to thwart Grindelwald's plans, Albus Dumbledore (Jude Law) enlists his former student Newt Scamander, who agrees to help, unaware of the dangers that lie ahead.  Lines are drawn as love and loyalty are tested, even among the truest friends and family, in an increasingly divided wizarding world.