Michael Jackson's Famous Appearance On 'The Simpsons' Confirmed To Be Authentic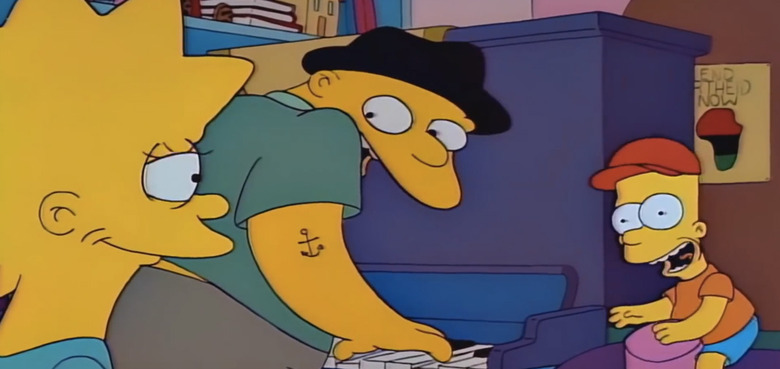 In the early days of The Simpsons, one of the most highly publicized episodes was "Stark Raving Dad," featuring a mental patient character named Leon Kompowsky. That's because the character, who thought he was Michael Jackson, was supposedly voiced by the King of Pop himself. But for years, fans of The Simpsons weren't sure if Michael Jackson really voiced the character or if it was all some kind of prank. Now we have our answer.
The Simpsons creator Matt Groening recently spoke to Australian TV series The Weekly (via Mashable), and he was asked whether it was really Michael Jackson voicing Leon Kompowsky. After all, the late pop artist was credited as John Jay Smith, and rumors have always persisted about whether or not the voice really belonged to Jackson. But Groening confirmed the casting:
"We really did have him. He has the voice of someone doing a Michael Jackson bit."
Interestingly enough, though, Michael Jackson couldn't do his own singing on the show. Groening explained, "He did the show, he didn't want credit for it — it was some kind of deal with his record company or whatever. So when it came time to sing the songs, he had a soundalike singer. And he stood there and watched the guy who was so nervous, who had to sound like Michael Jackson."
Perhaps that's what fueled the rumors in the first place. After all, the voice that famously sings "Happy Birthday, Lisa" doesn't sound exactly like Michael Jackson. Take a listen for yourself to refresh your memory:
This episode was one that I was excited to watch as a kid who was just as obsessed with Michael Jackson as Bart Simpson was at the time. But I remember being somewhat confused by his role in the show and thinking even then that the singing voices didn't sound exactly like Michael Jackson. It's nice to have my childhood suspicions confirmed.
For those curious, the man who provided the singing voice for Michael Jackson in this episode of The Simpsons was a guitarist named Kipp Lennon. He even sang the song live at The Hollywood Bowl back in 2014. But it's good to know that the character was actually voiced by Michael Jackson, which is all the more cool for Bart Simpson, who has always been the biggest Michael Jackson fan.