'The Predator' Trailer: The Final Trailer Is The Most Action-Packed One Yet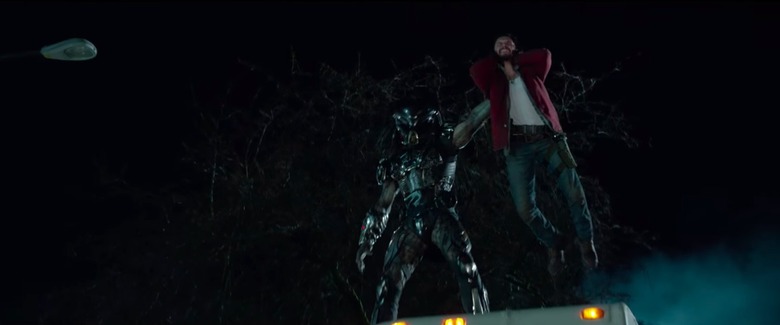 20th Century Fox has dropped the final trailer for The Predator, and it's the most action-packed yet. But get ready to take your action with a heavy dose of humor, as this latest trailer seems to lean into director Shane Black's signature dark comedy.
The Predator Trailer
The trailers for The Predator seem to be getting campier with each release, and now the final trailer seems to be the campiest of all. But perhaps that's what the film always was all along — darkly comic director Shane Black unleashing his dry humor upon the world, except this time there are bloodthirsty aliens involved. Black's trademark snappy dialogue is on full display in this film, as well as the Predators themselves — a vast improvement from the shadowy, hard-to-see first trailer!
This could be the movie that breathes new life into the Predator franchise, which has had a long and weird journey since the first film hit theaters in 1987. John McTiernan's Predator, starring Arnold Schwarzenegger, was a gritty action flick that started the series off on a darker tone, which was slowly chipped away through subsequent sequels and failed reboots. While Black doesn't shy away from the grim violence that is representative of the Predator franchise, it's nice to see him take a lighter touch in this final The Predator trailer
The Predator features an all-star cast including Boyd Holbrook, Trevante Rhodes, Jacob Tremblay, Keegan-Michael Key, Olivia Munn, Sterling K. Brown, Alfie Allen, Thomas Jane, Augusto Aguilera, Jake Busey and Yvonne Strahovski.
Here is the official synopsis for The Predator:
From the outer reaches of space to the small-town streets of suburbia, the hunt comes home in Shane Black's explosive reinvention of the Predator series. Now, the universe's most lethal hunters are stronger, smarter and deadlier than ever before, having genetically upgraded themselves with DNA from other species. When a young boy accidentally triggers their return to Earth, only a ragtag crew of ex-soldiers and a disgruntled science teacher can prevent the end of the human race.
The Predator opens in theaters on September 14, 2018.