'Benedetta' Image Reveals First Look At Paul Verhoeven's New Lesbian Nun Film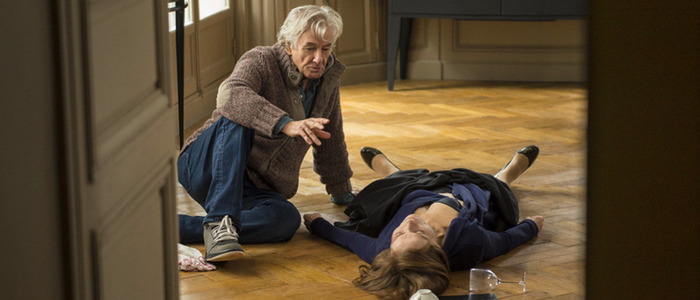 Paul Verhoeven, director of RoboCop, Starship Troopers, Elle and more, has a new film: Benedetta. Set in the 17th century, Benedetta follows a lesbian nun who was prone to visions and displayed the stigmata – supernatural wounds that mimic the injuries inflicted on Jesus during the crucifixion. You can see the first official Benedetta image below.
A movie about a mystical lesbian nun sounds right up Paul Verhoeven's alley, so we should all have high hopes for Benedetta. The first Benedetta image shows Virginie Efira in character as the 17th century nun, flanked by soldiers: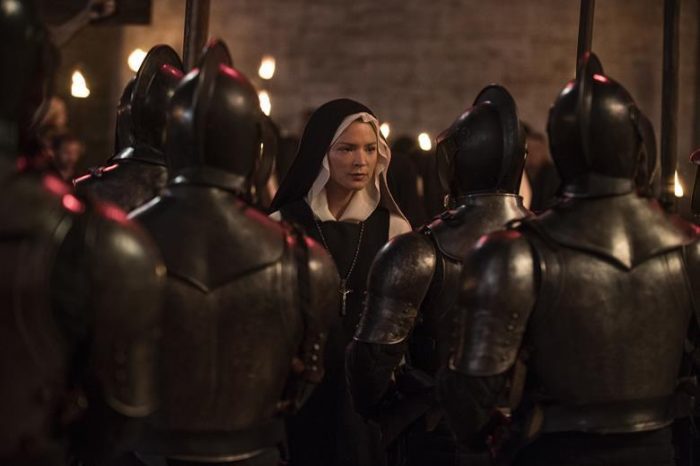 Verhoeven's film is adapted from Judith C. Brown's book Immodest Acts: The Life Of A Lesbian Nun In Renaissance Italy (which I think we can all agree is a much better title than Benedetta). Here's the book's synopsis:
Born of well-to-do parents, Benedetta Carlini entered the convent at the age of nine. At twenty-three, she began to have visions of both a religious and erotic nature. Benedetta was elected abbess due largely to these visions, but later aroused suspicions by claiming to have had supernatural contacts with Christ. During the course of an investigation, church authorities not only found that she had faked her visions and stigmata, but uncovered evidence of a lesbian affair with another nun, Bartolomeo. The story of the relationship between the two nuns and of Benedetta's fall from an abbess to an outcast is revealed in surprisingly candid archival documents and retold here with a fine sense of drama.
There are two possible ways to tell this story. One is the serious, somewhat dry costume-drama/biopic approach. Another is to go for something somewhat exploitative, like Ken Russell's The Devils. Knowing Verhoeven's past work, I think I have a pretty good idea which approach he's going to take here. No matter how it turns out, though, I'm sure it'll be a must-see. Verhoeven hasn't lost a step in the later half of his career, as his recent film Elle proves.
The filmmaker also has a background in religious studies, which likely contributed to his interest in the material. He's a member of the Jesus Seminar, a group that studies the historicity of the life of Jesus Christ. Not only does Verhoeven belong to the group, he's also the only member without a degree in biblical studies. Verhoeven even wrote a book about Jesus– Jesus of Nazareth, published in 2011. The book is Verehoven's attempt to move beyond the mythical Jesus of the Bible and discover what the real flesh and blood man might have been like. It's a fascinating book, and not at all dry like some scholarly texts can be.
Benedetta also stars Charlotte Rampling, Daphné Patakia, Lambert Wilson, Olivier Rabourdin and Louise Chevillotte. Verhoeven is currently shooting in Italy, with plans to release the movie in France in 2019. An American release date will no doubt follow.