Michelle Yeoh, Awkwafina Team Up With 'Swiss Army Man' Directors For 'Everything Everywhere All At Once'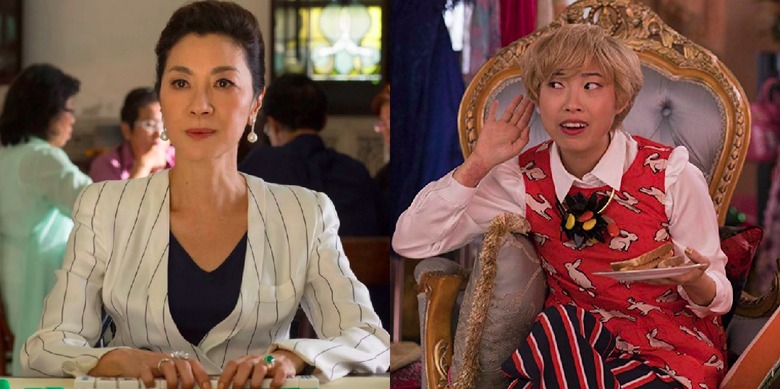 The Crazy Rich Asians effect is continuing to take over Hollywood. Michelle Yeoh and Awkafina, who both starred in the groundbreaking Asian-led hit, are reuniting in a film that is worlds away from that luxe rom-com. Yeoh and Awkafina are teaming up with Swiss Army Man directing duo Daniels for a sci-fi action film titled Everything Everywhere All At Once.
Deadline reported that Yeoh and Awkwafina are reuniting in Everything Everywhere All At Once, the follow-up film to Daniels' outrageously weird directorial debut Swiss Army Man. The outlet writes:
Their very first major deal was to buy the next film by the directing team known as The Daniels — Dan Kwan & Daniel Scheinert — after seeing their offbeat directing debut Swiss Army Man. That project, an inter-dimension action film, now has a title, Everything Everywhere All At Once, with talks underway with Awkwafina and Michelle Yeoh, both coming off the hit Crazy Rich Asians, for a spring start.
An "interdimensional action film" is an intriguing, if vague, premise. But combined with what we know of the directing style of Dan Kwan and Daniel Scheinert, known professionally as Daniels, and the talents of Hong Kong cinema legend Yeoh and Crazy Rich Asians breakout Awkwafina, Everything Everywhere All At Once may have shot to the top of my most-anticipated list.
Daniels got their start directing surreal, grimy music videos like their viral "Turn Down For What," before breaking into feature films with the absolutely bonkers Swiss Army Man. If you remember the chatter around the 2016 film, it was the farting Daniel Radcliffe corpse movie that was so revolting it caused some festival audiences to walk out in disgust. I don't know what those audience members where thinking — the film is a revelation. It's a bizarre fever dream that comes close to making an awe-inspiring message before settling for the crudest form of comedy. Swiss Army Man is the perfect marriage of low-brow and high-brow humor, and the prospect of seeing the elegant, indomitable Yeoh in a film like that is too good a prospect. Awkwafina on the other hand, with her broad, slapstick-y comedy, seems perfectly suited for it.
Everything Everywhere All At Once will be produced by Avengers: Infinity War directors Anthony Russo and Joe Russo via their studio AGBO.
This film is the latest aftereffect of the box office success of Crazy Rich Asians, which proved that Asian-led films can be a hit with U.S. audiences. The film has proved to be a watershed moment for Asian-led movies, with Hollywood preparing to green light even more Asian-centric films, and Crazy Rich Asians stars like Ken Jeong and Awkwafina receiving the well-deserved spotlight. And it's the perfect capper to what has been dubbed "Asian August," which has seen more Asian-led films in Hollywood than in the past 25 years.