There Will Be 'Suspiria' Post-Credits Scene, Director Luca Guadagnino Confirms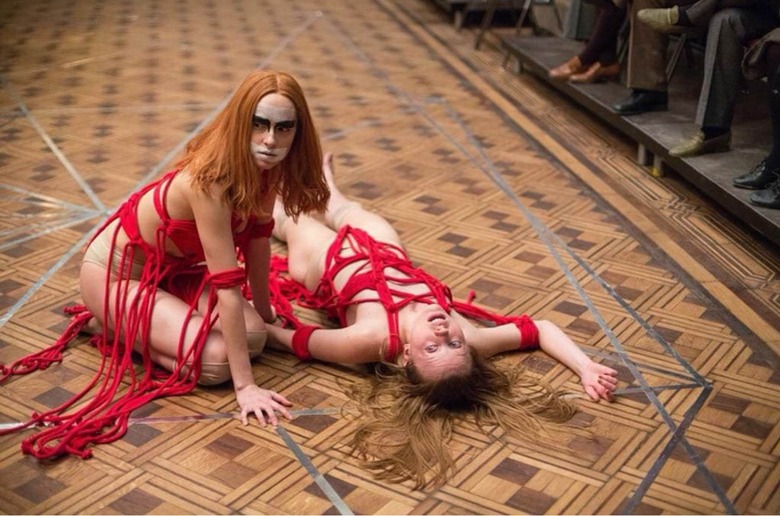 When the credits begin rolling on Luca Guadagnino's Suspiria, wait a few minutes before you flee from your seat in terror. The director of the remake of the Dario Argento horror classic has revealed that there is a Suspiria post-credits scene that could plant the seeds for a greater Suspiria franchise in the future. Madame Blanc origin movie spin-off, here we come.
It's almost a given that every horror movie must have at least one sequel. Even Argento's surreal 1977 horror classic Suspiria received thematic sequels in the form of Argento's "The Three Mothers" trilogy, whose films Inferno (1980) and The Mother of Tears (2007) were characterized by vibrant technicolor madness and stories centering around a triumvirate of ancient and evil witches.
But Guadagnino could build his own franchise within the Suspiria universe (the Suspiria cinematic universe?!), according to his post-credits stinger.
In an interview with Deadline, Guadagnino vaguely teased the post-credits scene, which follows a certain unnamed character. "The character is looking forward towards something. I think it would be interesting to know what that is..." Guadagnino said cryptically. He continued:
"At the beginning we were going to title the movie Suspiria: Part One but we didn't want to give the impression of something that couldn't stand alone. Truthfully, I'd be interested to explore the origin of Madame Blanc and Helena Markos and also the future of Susie Bannion in the world. So maybe. We'll have to see how the movie goes."
Guadagnino also expressed interest in continuing to expand the story of Tilda Swinton's character Madame Blanc based on "how audiences react." I joked about a Madame Blanc origin movie, but based on Guadagnino's statements, it could actually happen. But I wouldn't be opposed to that, as I'll take any excuse to see Guadagnino and Swinton work together again — Suspiria is their fourth collaboration after The Protagonists, I Am Love, and A Bigger Splash. Besides, it's an excuse for Swinton to revert to her natural state as an ethereal witch goddess come to bless human beings with her presence.
Suspiria, which also stars Dakota Johnson, Mia Goth, and Chloë Grace Moretz, hits theaters on October 26, 2018.
A darkness swirls at the center of a world-renowned dance company, one that will engulf the troupe's artistic director, an ambitious young dancer and a grieving psychotherapist. Some will succumb to the nightmare — others will finally wake up.