'Blade 4' And Other Possible 'Blade' Projects Teased By Wesley Snipes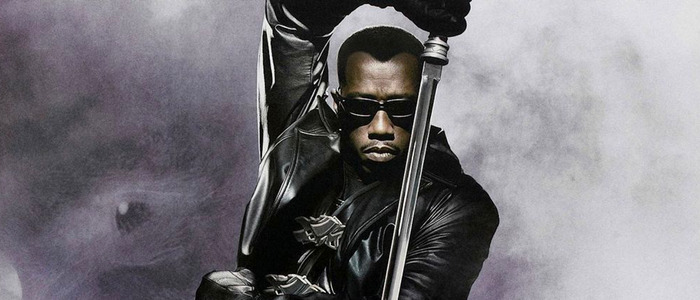 We all want to see Wesley Snipes play Blade again, right? That's a foregone conclusion? Well, we might get our wish. Snipes is teasing multiple projects that might see him returning to the role of everyone's favorite Daywalker. What could they be? Blade 4? TV shows for Netflix? Snipes is vague on the specifics, but at least we can take solace in the fact that these projects are probably happening. Maybe.
It's been 14 years since Wesley Snipes put on his leather trench coat and wraparound sunglasses to fight vampires, and frankly, that's much too long. We as a society demand more Blade movies, damn it. If you ask me, people should be taking to the streets with huge picket signs reading "WE WANT BLADE." Perhaps sensing the brewing national outrage over a severe lack of all-things-Blade, Wesley Snipes recently attempted to calm the waters by teasing two different projects that have the potential to bring Blade back from the dead. When asked by Vice if there was any chance of Blade 4, Snipes replied:
"There are a lot of conversations going around right now and we're very blessed to have the enthusiasm and interest in something coming from that world again. We've created two projects that fit perfectly into this world and, when people see them, I think they're only going to have a problem with deciding which one they love the most."
As you can see, Snipes doesn't clarify what these two projects are, which is a bit frustrating. I get it: the deal likely isn't done yet and he doesn't want to jump the gun. Still, I'd like to know just what it is that Snipes is teasing here. I personally hope it's a movie, but who knows – it could be a Netflix show, or even something animated with Snipes voicing the character (please don't let it be that; I want to see Snipes' Blade in action).
There were plans to make Blade 4 after Blade: Trinity, as well as a possible Nightstalkers spin-off focused on Ryan Reynolds and Jess Biel's characters from Trinity. But Blade: Trinity underperformed at the box office – it made close to what the first Blade took in, but less than Blade II. Things got ugly from there: Snipes sued New Line Cinema and director David Goyer, claiming that New Line failed to pay him his full salary and that the studio and Goyer cut him out of casting and filmmaking decisions. Since then, the rights to Blade have reverted back to Marvel Studios.
"All the main execs [at Marvel] and my team, we've been discussing for the past two years," Snipes adds. "Everyone's enthusiastic about it, everybody gets it. But they got a business to run and they gotta square the things that they gotta figure out before they can get to it, I guess. In the meantime, we got a business to run and our own slate of things to do so...But the next time you see something in [the Blade universe], mark my words: what we did before is child's play compared to what we can do now."
I'm optimistic about all this, but I'd be more optimistic if we all had a better idea of what it is Snipes is talking about. Would Blade as a character fit into the Marvel Cinematic Universe as we know it now? I'd say no, but I also don't really care. I just want to see Blade again, cutting vampires into dust with his sword. Is that so much to ask? Hopefully someone, somewhere, is working towards making this happen. But it might be a while before we know for sure, because some motherf***ers are always trying to ice skate uphill.