'The Front Runner' Trailer: Hugh Jackman's Presidential Campaign Collapses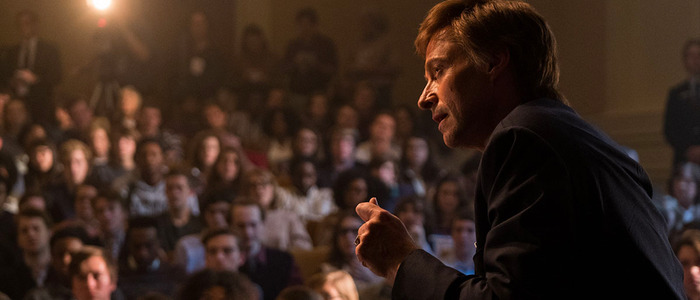 Gary Hart was the front-runner for the 1988 Democratic presidential nomination. And then everything went wrong. Jason Reitman's The Front Runner tracks the rise and fall of Hart, as played by Hugh Jackman. Watch The Front Runner trailer below.
The Front Runner Trailer
"There was a moment when Gary Hart looked like he was going to be the next president of the United States," Jason Reitman tells Entertainment Weekly, who debuted the trailer above. "And within a week he was out of the race and never ran again." What happened? A scandal broke alleging Hart had an affair with actress and model Donna Rice, and the press coverage was too much for him to bounce back from. He dropped out and never tried again. The Front Runner's plot seems almost quaint compared to the current political climate, where seemingly no scandal is big enough to derail the careers of certain politicians. Because this is a hell world.
Hugh Jackman is one of those actors who always gives his all, no matter what the project. This is the type of big, showy, dramatic role he can really sink his teeth into, and probably campaign for an Oscar as well. The rest of the cast includes Vera Farmiga, J.K. Simmons, Mamoudou Athie, Molly Ephraim, Steve Zissis, and Sara Paxton.
This is an effective, well-cut trailer. Everything unfolding here looks compelling – although the moment where a reporter shouts, "It's up to us to hold these guys accountable!" is a bit on-the-nose. While the focus is on Hart, Reitman tells EW that The Front Runner is going to cover the story from multiple angles. "This is a movie with a dozen different points of view. And you can already see in the trailer, you're going to be observing this story from every perspective," the filmmaker says. On the TIFF page for The Front Runner, it's mentioned that Reitman channelled Robert Altman's work for the observational style of the narrative. I'm not so sure if I buy that based on the trailer, but we shall see.
The Front Runner will debut at the Telluride Film Festival and play TIFF, before opening on November 7, 2018.
Jason Reitman (Tully, Up in the Air) directs Hugh Jackman, Vera Farmiga, and J.K Simmons in this biopic about US Senator Gary Hart's 1988 presidential campaign and his scandalous affair that derailed it.
Based on Matt Bai's All the Truth is Out: The Week Politics Went Tabloid, The Front Runner takes us into the backrooms where truths are drawn out and painful decisions are made.