'Spawn' Reboot Lands Legendary Special Make-Up Effects Artist Greg Nicotero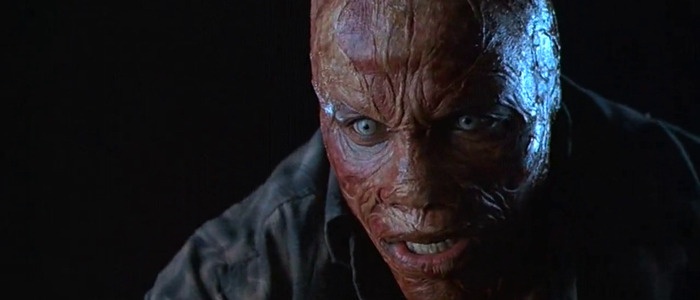 The Spawn reboot continues to move forward, lining up a considerable roster of talent. The latest addition: Greg Nicotero, the special make-up effects guru who has worked on many genre projects, including The Walking Dead, Kill Bill, Sin City, and, appropriately enough, the 1997 Spawn movie. Spawn creator Todd McFarlane is set to helm the new Spawn film, with Blumhouse producing.
"I'm a long-time fan of Greg's work and the projects his company, KNB have done throughout the years," Todd McFarlane said, announcing Greg Nicotero's involvement with the project. "Working with him once again, to re-invent the Spawn 'look' so it will match the supernatural theme in the movie, is going to be a fun process." Nicotero and his company KNB EFX will create the new Spawn design for the upcoming movie.
Nicotero has a staggering list of credits to his name. He's been working as a make-up effects artist as far back as George Romero's 1985 Day of the Dead, and in his long career, he's worked in the make-up or effects department on a plethora of titles – From Dusk Till Dawn, Scream 2, The Faculty, Cabin Fever, Casino Royale, The Mist, both Kill Bill films, and many, many more.
His make-up effects work on the zombies on The Walking Dead brought Nicotero even more exposure. In addition to make-up work, Nicotero is also a director, having helmed several episodes of The Walking Dead. He's also set to direct a Creepshow TV series for Shudder. In short, Nicotero is a great person to have attached to your genre project, and I have no doubt he'll create something memorable for Spawn.
Here's a video of Nicotero talking about make-up effects.
Greg Nicotero
I continue to be skeptical of this entire Spawn reboot idea, and probably won't accept it as a reality until I sit down to watch it. Todd McFarlane has been talking about it so long that it started to seem as if the project was little more than a pipe dream. But the Spawn reboot is really happening, and it's attracted a surprising list of names.
Jamie Foxx is set to play the title character, a mercenary who dies and returns from hell, while Jeremy Renner will play Detective Twitch Williams. This new take is going to be much, much different than the (terrible) 1997 movie. McFarlane has claimed the movie will lean heavily into the horror genre, resulting in a "gritty, R-rated imagining" of the material.
"It's not a comic book movie, it's just a scary movie, a creepy movie," McFarlane said. "Everything's real except for one element, which happens to be the character we know as Spawn. So it's not going to be super villain vs superhero or any of that stuff, it's just going to be a 'tight' movie."