'First Man' Early Buzz: Critics Are Over The Moon For Damien Chazelle's "Revelatory" Biopic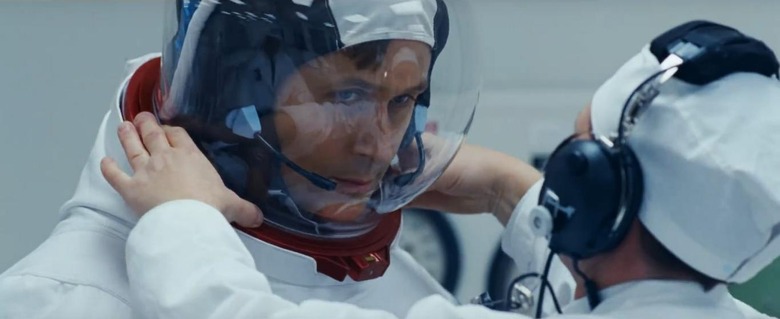 La La Land and Whiplash director Damien Chazelle has launched another stunner with First Man. The highly anticipated Neil Armstrong biopic starring Ryan Gosling as the historic NASA astronaut made its debut at the Venice International Film Festival, where it was met with rapturous reception.
See what critics have to say about in our round-up of the First Man early buzz.
Variety's Owen Gleiberman calls Chazelle's follow-up to La La Land "a turbulently spectacular and enthralling drama" that redefines the space movie, adding:
"Propelled by Linus Sandgren's raw-light cinematography and Tom Cross's hypnotic editing, "First Man" is so immersive in its glitchy, hurtling, melting-metal authenticity that it makes a space drama like "Apollo 13" look like a puppet show."
Jessica Kiang at the The Playlist calls First Man an immaculately crafted, old-fashioned epic:
"Steering an astonishingly accomplished path between the small steps and the giant leaps of the Apollo 11 mission, reigning Best Director Damien Chazelle opens the 75th Venice Film Festival with First Man, an immersive, immaculately crafted, often spectacular and satisfyingly old-fashioned epic that may well become the definitive moon-landing movie."
Robbie Collin from The Telegraph praises the film's thoughtful character study of Neil Armstrong without all the bells and whistles that have accompanied previous depictions:
"It also gives an emotional undertow to the moon landing finale itself – which, it is implied, gives Armstrong the literally unearthly perspective required to process his heartbreaking loss. The less said in advance about this staggering sequence the better, other than that it crackles with eeriness and wonder, looks utterly real, and is the reason to see First Man on the biggest cinema screen you can find."
The Guardian's Peter Bradshaw had mixed praise for the film, calling it a "soaring, occasionally staid drama":
"A more questioning or nuanced movie might have placed the moon landing halfway through the story and then focused on the long, mysterious and anti-climactic nature of Armstrong's life on earth. Chazelle – understandably – makes the moon landing the climax and the glorious main event. It is a movie packed with wonderful vehemence and rapture: it has a yearning to do justice to this existential adventure and to the head-spinning experience of looking back on Earth from another planet. There is a great shot of Armstrong looking down, stupefied, at the sight of his first boot-print on the moon dust, realising what that represents."
Michael Nordine at IndieWire assured that the film met "sky-high expectations" and more:
"You already know how First Man ends. It's been nearly half a century since man walked on the moon, and nearly as long since space exploration was at the forefront of America's collective imagination, which is to say that Damien Chazelle's follow-up to La La Land has more challenges to contend with than it might initially appear. They're easily overcome: First Man is an anti-thriller of rare intensity, with lived-in performances from Ryan Gosling and Claire Foy heightening the sky-high drama at every turn. It's not a comprehensive look at the Apollo 11 mission, but revisits that famous story from a more intimate angle, even as it delivers a satisfying ride."
David Rooney from The Hollywood Reporter praised the film's "sober, contemplative" tone:
There can be no doubt concerning the ultimate outcome of Damien Chazelle's drama about NASA's 1969 Apollo 11 mission, which made history by putting astronauts on the Moon after a series of trial-and-error attempts. It's implicit in the title, First Man. So it's a credit to the filmmakers and to lead actor Ryan Gosling's thoughtfully internalized performance as Neil Armstrong that this sober, contemplative picture has emotional involvement, visceral tension, and yes, even suspense, in addition to stunning technical craft."
The Film Stage's Leonardo Goi praised First Man as "a remarkable, jaw-dropping departure from anything Chazelle has previously made," adding:
First Man floats in space as much as it stays on the ground: even when it turns to Armstrong's famous exploits, Tom Cross' editing take us back and forth from the man's extraterrestrial meandering to his wife's domestic struggles.
Alex Billington at First Showing praised the film's "breathtaking and beautiful" technical aspects, which enhanced Gosling and Foy's frequently praised performances:
This is the story Chazelle gives us. It's a bit of both, an intimate story of how much Armstrong went through, and what it all meant to him. And a look at the incredible journey NASA took to send these guys up there. And the flight sequences are breathtaking: I was literally holding my breath. The sound design and sound editing in this is remarkable, so perfectly created it will make the hair on the back of your neck stand up. And the score by Justin Hurwitz (who also worked on La La Land) is wonderful, unique and expressive in a way that magnifies our emotions just a bit more. All of this works together in perfect harmony, making this a film that is not an overstated Hollywood feature about how dazzling and extraordinary it was to travel to the Moon. Instead, it's about how these people worked audaciously & intensely to complete the mission.
Time's Stephanie Zacharek had perhaps the most muted reaction to First Man, writing that "First Man doesn't quite live up to Ryan Gosling's thoughtful Neil Armstrong performance." She writes (making a jab at Chazelle's love for jazz):
The movie feels too fussed-over for such a low-key hero. Its star, Ryan Gosling, turns in a discreet, sensitive performance, almost too sensitive for the movie around it: Minute after minute, Chazelle and cinematographer Linus Sandgren are right there with the (often) handheld camera, coming in tight for allegedly meaningful closeups or jiggling hard to connote, say, the brain-rattling feeling of being an astronaut leaving the Earth's atmosphere in a space capsule. The wriggly camera work doesn't make the jostling more dramatic. If anything, it makes the proceedings seem inconsequential, no-biggie events that need to be jazzed up visually with excess technique.
The Wrap's Alonso Duralde calls First Man a "haunting, thrilling space saga" that "reminds us that the path to the moon was littered with chaos and catastrophe," continuing:
Overall, it's an impressively mounted film, from the seamless visual effects to the score by Justin Hurwitz, which is flexible enough to accentuate both the film's tension and its earthbound humanity, to the always exquisite editing by Tom Cross ("Whiplash"), which plays a key role in establishing the characters, the stakes and even the passage of time.
That's not all the praise that First Man is receiving. Critics are gushing about the film, Gosling and Claire Foy's performances in particular, on Twitter:
#RyanGosling might be the hero of #FirstMan, but the star that shines brightest is #ClaireFoy. @FirstManMovie #Venezia75 pic.twitter.com/YPk9qWFa8U

— David Opie (He/Him) (@DavidOpie) August 29, 2018
First Man – An exceptionally beautiful, intimate look at how the determination and courage of men once took us farther than we have ever been before. In a word: breathtaking. Chazelle continues to astound.

— Alex B. (@firstshowing) August 29, 2018
I will review Damien Chazelle's First Man at #Venezia75 tonight at 6pm. But one thought: he abolishes the planting of the stars-and-stripes on the moon. It doesn't happen in this film. A rebuke to Trump-ite nationalism?

— Peter Bradshaw (@PeterBradshaw1) August 29, 2018
Can't say too much yet, but the space sequences in #FirstMan are literally out of this world. Expect more awful puns in my upcoming review 😁 pic.twitter.com/nPopmaEXaW

— David Opie (@DavidOpie) August 29, 2018
#Venezia75 #FirstMan Transfixed, obsessive take on a mission which was insanity by definition. The only way this story could have been told. Towering achievement, literally, by Chazelle.

— Lorenzo Ciorcalo (@rotovisor) August 29, 2018
***
It's safe to say that critics are over the moon for First Man. While some seem divided on the film's dizzying display of in-your-face editing and visceral setpieces, critics are universally enamored with Gosling and Foy's performances in Chazelle's intimate, character-driven space drama. Though the one thing it seems to be missing is Chazelle's signature ode to jazz.
First Man soars to theaters on October 12, 2018.