'I Think We're Alone Now' Trailer: Peter Dinklage And Elle Fanning Survive The Apocalypse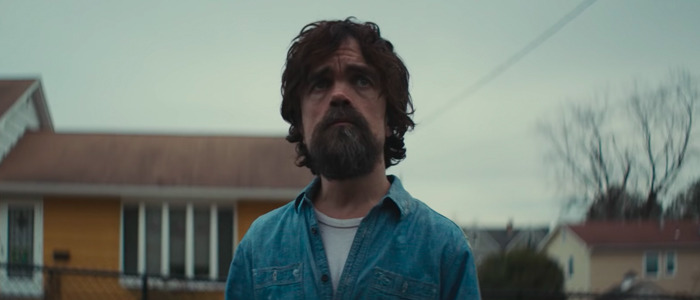 The long break between Game of Thrones seasons means it's been a while since we've seen a great Peter Dinklage performance. His work in Avengers: Infinity War was fine, but if you want to watch the actor dig into a more complex role, make sure I Think We're Alone Now is on your radar. It's a new post-apocalyptic movie in which Dinklage plays the last man on Earth – but his tranquil existence is interrupted when he discovers a young woman (played by Super 8's Elle Fanning) in his small abandoned town.
We've seen a couple of teaser trailers already, but now the full trailer has arrived and you can check it out below.
I Think We're Alone Now Trailer
What a gorgeous trailer. This is the second movie from Reed Morano (who established the look of The Handmaid's Tale in its first season), and she served as both director and the director of photography on this film. The visuals are haunting and strangely beautiful, despite the fact that they depict a world engulfed by emptiness and death.
But the performances from both leads lend the movie the spark of life it needs. I saw this movie at Sundance back in January, so I can confidently state that this is one of Dinklage's best performances in years. He can play soulfully sad with the best of them, and his character embraces isolation and bristles at any connection with Fanning, who yearns for the very connection he's fighting against.
Here's a quick excerpt from my review:
Despite a premise that sounds overly familiar and a central relationship that could easily have tipped into eye-rolling territory, Morano, writer Mike Makowsky, and the movie's lead actors have crafted a poignant and humanist showcase of growth and compassion. Quiet, reflective, and intimate, I Think We're Alone Now is an exceptional exhibition for Dinklage and Fanning and a further illustration of the dynamic talent of filmmaker Reed Morano.
Here's the film's official synopsis:
Del (Peter Dinklage) is alone in the world. After the human race is wiped out, he lives in his small, empty town, content in his solitude and the utopia he's methodically created for himself – until he is discovered by Grace (Elle Fanning), an interloper whose history and motives are obscure. Worse yet, she wants to stay.
I Think We're Alone Now hits theaters in New York and Los Angeles on September 14 and then expands nationwide (and becomes available On Demand) on September 21, 2018.