Ben Wheatley's New Film Revealed As 'Happy New Year, Colin Burstead'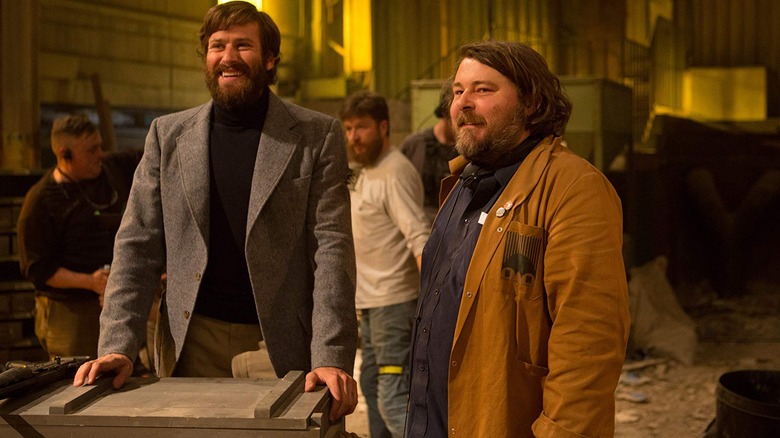 Over the past few years, Ben Wheatley has proven himself to be one of the most exciting — and efficient — British directors working today, pumping out new movies on the regular. But after the release of High Rise in 2016 and Free Fire a year later, Wheatley went quiet. That is, until an inconspicuous Instagram post revealed that Wheatley was midway through shooting a new project tentatively titled Colin You Anus.
But now, we know the actual title of Wheatley's new film. The secret Wheatley film has been revealed to be titled Happy New Year, Colin Burstead through the BFI London Film Festival's announcement of its competition slate. And that's how you make noise in the crowded film festival season.
The BFI London Film Festival (via The Playlist) announced its official competition slate, revealing that Wheatley's secret film is a dramedy titled Happy New Year, Colin Burstead. The film — which boasts a much more generally acceptable title than the original — will be a bit of a departure for Wheatley, who has mostly dabbled in thrillers, horror movies, and action comedies. Happy New Year, Colin Burstead will follow the titular Colin and his dysfunctional family around New Year.
Here's the logline for Happy New Year, Colin Burstead according to the London Film Festival:
The World Premiere of HAPPY NEW YEAR, COLIN BURSTEAD is Ben Wheatley's triumphant return to the Festival after Free Fire (LFF 2016). A poignantly funny and razor-sharp observation of English family dysfunction. Colin has rented a stately country home for his extended family's New Year celebrations. He's the centre of attention until his estranged brother David unexpectedly arrives, throwing the family dynamic far off orbit. Starring Joe Cole, Charles Dance, Mark Monero, Hayley Squires, Asim Chaudhry, Doon Mackichan, Bill Paterson, Neil Maskell and Sam Riley.
After being wowed by the taut, hysterical thriller that was last year's Free Fire, I can't wait to see what Wheatley has up his sleeves. Announcing the film in this manner is ballsy, and a smart way to draw eyes as Venice, Toronto, and Telluride prepare to take over festival season.
The BFI London Film Festival begins on October 10, 2018 and will feature highly anticipated films such as Cannes breakout Birds of Passage, Karyn Kusama's Destroyer, Happy as Lazzaro, the Robert Redford-starring The Old Man & the Gun, Peter Strickland's In Fabric, and more.