'Big Mouth' Season 2 Trailer: The Kids Are Growing Up And Raging With Even More Hormones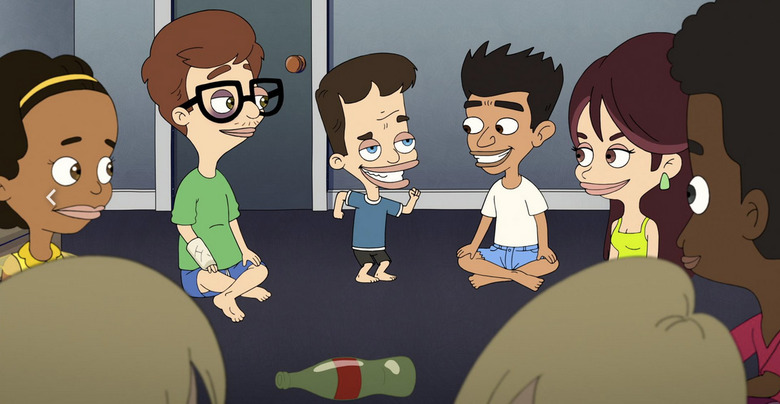 The first season of Big Mouth quietly became one of the best animated shows for adults out there right now. And that's exactly why Netflix gave the series from Nick Kroll and Andrew Goldberg a second season, coming this October.
The second season of Big Mouth picks up right where the last season left off, which means our loveable group of dirty-minded 7th graders are continuing to deal with the emotional baggage that comes with growing up. Hormones are still raging, which means the Hormone Monsters are back to make the realities of discovery, body image shame, birth control, and countless other excruciating formative moments that much more difficult. Find out what they're dealing with in the Big Mouth season 2 trailer below.
Big Mouth Season 2 Trailer
Nick Kroll and John Mulaney are back as Nick Birch and Andrew Glouberman (inspired by the show's comedian creators), two of the lead kids dealing with an abundance of hormones, with the former also voicing the Hormone Monster for boys. Meanwhile, Maya Rudolph is back in dual roles as both Nick's mother Diane and the saucy Hormone Monstress who makes girls' lives complicated.
The rest of the returning voice cast includes Jason Mantzoukas, Jordan Peele, Fred Armisen, Jenny Slate and Jessi Klein, but there are a couple new voices you'll hear this season too. Gina Rodriguez (Jane the Virgin) and David Thewlis (Wonder Woman) have joined the cast of Big Mouth for the second season.
Rodriguez is playing the first girl in school to develop breasts, which is sure to rile up the boys and their Hormone Monster. Meanwhile, Thewlis is voicing an enemy of the Hormone Monster known as the Shame Wizard, who makes kids feel terrible for their hormone-driven feelings. That's the most fascinating addition to the series so far, since it expands the world of the Hormone Monster and Hormone Monstress, which I hope continues to grow as the kids get older.
There's so much potential for this series as the kids continue to grow up and explore maturity, sexuality and more. It helps that the series hails from real life friends Kroll and Goldberg, who use their real lives and embarrassments to fuel the series. Here's hoping Netflix continues to order more episodes until this group gets into high school, where things will get even more complicated.
Big Mouth returns for season 2 exclusively on Netflix on October 5, 2018.