Wile E. Coyote Movie In The Works At Warner Bros.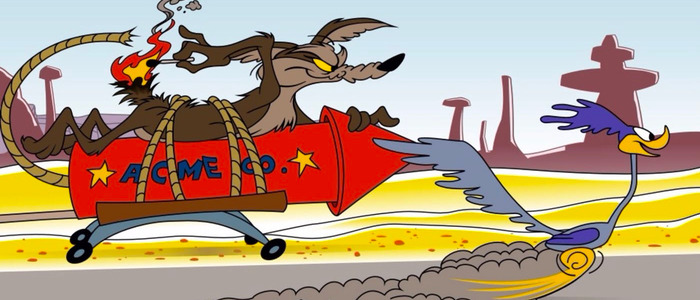 We may receive a commission on purchases made from links.
Wile E. Coyote may have never been able to catch that jerk the Road Runner, but he is about to land his own feature film. Warner Bros. is developing Coyote Vs. Acme, and they've hired Jon and Josh Silberman to pen the script. Please follow me into this tunnel painted on the side of a mountain to learn more about the Wile E. Coyote movie.
Remember Wile E. Coyote? The animated character who was constantly foiled in his attempts to eat the annoying Road Runner by faulty Acme products? More often than not, he'd find himself running right of a cliff, continuing to run on thin air, and then falling thousands of feet after he realized his predicament. Now, Warner Bros. wants to give the luckless coyote his own movie. Deadline reports Warners is developing Coyote Vs. Acme, produced by LEGO Batman Movie director Chris McKay. Jon and Josh Silberman, who have worked on shows like Living Biblically and It's Always Sunny in Philadelphia, are handing the script.
Deadline doesn't have any plot details, but some intensive research (translation: using Google) reveals that writer Ian Frazier has a collection of humorous essays titled Coyote V. Acme. Within the book is the title story, which is comprised of "the opening statement of an attorney representing Wile E. Coyote in a product liability suit against the Acme company, supplier of unpredictable rocket sleds and faulty spring-powered shoes."
Is Warners adapting this? I sure hope so, because the idea of a courtroom drama about Wile E. Coyote is pretty damn funny. Then again, this could be something in the vein of Batman v. Superman, where Wile E. Coyote puts on a giant robot suit and pummels the CEO of Acme, only to stop when he learns their mothers have the same name. Just spitballing here.
Back in 2014, Steve Carrel was attached to star in the Looney Toons-inspired movie Acme, but like many Acme products, that project failed to get off the ground. Is this new film related to that? Who knows! Everything is still under-wraps. Where does the Road Runner fit in? Beats me! Maybe if Coyote vs. Acme does end up being a courtroom drama, the Road Runner could be called to testify. Or he could go through law school, make amends with Wile E. Coyote, and agree to represent him in court. I have a million of these ideas kicking around – call me, Warner Bros.
Wile E. Coyote was created by legendary animator Chuck Jones and writer Michael Maltese. In his book Chuck Amuck, Jones revealed he drew inspiration for the unfortunate Coyote from a surprising source: Mark Twain. "I first got interested in the coyote as an animal while perusing Mark Twain's 'Roughing It' at the age of 7," Jones said. "I thought of it as a sort of dissolute collie. And actually, that's just about what a coyote is! No one saw it more clearly than Mark Twain." Here's how Twain describes the coyote in Roughing It:
"The coyote is a long, slim, sick and sorry-looking skeleton, with a gray wolf-skin stretched over it, a tolerably bushy tail that forever sags down with a despairing expression of forsakenness and misery, a furtive and evil eye, and a long, sharp face, with slightly lifted lip and exposed teeth. He has a general slinking expression all over. The coyote is a living, breathing allegory of Want. He is always hungry."
Sounds about right. Twain didn't mention anything about the coyote constantly ordering faulty rocket-powered roller skates, though. Must've been an oversight.