Woody Allen Is Taking A Break From Filmmaking For The First Time Since 1981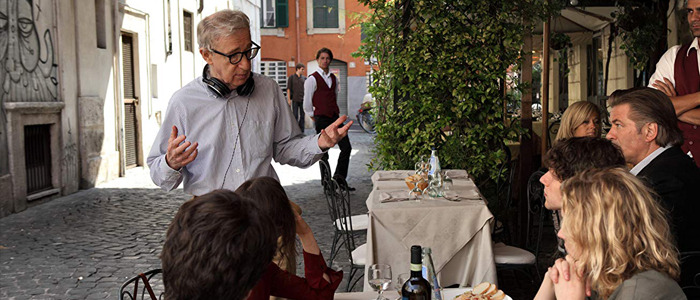 Woody Allen is one of the most prolific filmmakers of all time. The 82-year-old writer/director has released a movie per year since 1981 – sometimes even several movies, or in the case of 2016, a movie and six episodes of a TV series – but his streak seems to be coming to an end. A new report claims that Allen, who has again come under fire for abuse allegations, is taking a break from directing for the first time in over thirty-five years.
Back in 2016, leading up to the release of Allen's already-forgotten film Cafe Society, /Film's Jacob Hall predicted that "A year without a new Woody Allen movie is the year Woody Allen kicks the bucket." It was a prediction backed up by almost forty years of proof, and it was about as sure a bet as you'd find in Hollywood. But it seems we would have all lost that bet, because Allen now appears to be having trouble finding financing for his projects in our current climate.
Page Six (via The Playlist) says that the #MeToo movement that has swept Hollywood in the wake of the Harvey Weinstein case is part of the reason for Allen's current problems:
The #MeToo movement, ironically spearheaded by [Allen's] son Ronan Farrow, has hurt the auteur, who was accused by his adopted daughter, Dylan Farrow, of sexually abusing her 26 years ago. Allen was never formally charged with a crime, although a judge in Allen's child-custody case against Mia Farrow called Allen's behavior toward Dylan "grossly inappropriate."
A Hollywood producer told Page Six that Allen is considered "toxic" right now, and it's hard to disagree: actors like Timothee Chalamet, Rebecca Hall, and Griffin Newman have donated their wages from Allen's filmed-but-not-yet-released movie A Rainy Day in New York to charities that benefit victims of sexual abuse. Several prominent actors, including Michael Caine (who won an Oscar in Allen's Hannah and Her Sisters) said they will never work with the director again.
A Rainy Day in New York is part of a multi-film deal Allen has with Amazon Studios, and while some are still expecting the film to get a theatrical release sometime before the end of the year, this January article in The Hollywood Reporter claimed that Amazon's distribution of the film looks "increasingly shaky" and that Amazon may have to sever ties with Allen – even if that means giving him a huge payout.
"Woody loves working. He never takes a vacation. But he will be taking time off this year until he can find a backer," a source told Page Six, who says that aside from the effects of #MeToo, Allen has had trouble finding distributors because his films typically don't make as much money as studios would like. It sounds like all eyes are going to be on Amazon to see how they deal with their association with him, and it'll be very interesting to see if another company will try to work with him or if Allen's directing days are behind him.