Tate Taylor Replaces Original Director On Jessica Chastain Action Movie 'Eve'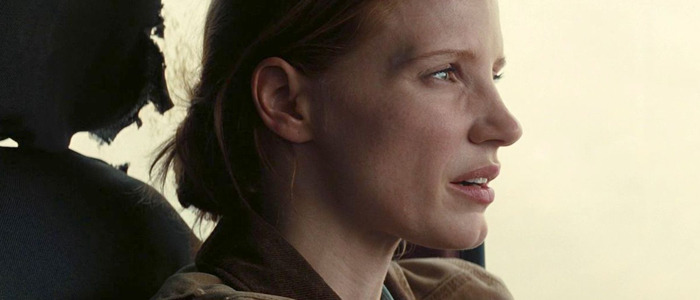 I'm not sure if anyone expected Jessica Chastain to become a full-fledged action movie star, but the actress is starting to take big strides in that direction. She has a female-centric action project called 355 in the works, she's about to appear in the presumably action-heavy superhero movie X-Men: Dark Phoenix, and she's gearing up to star in and produce a new action film called Eve.
Matthew Newton, the original director of Eve, ended up stepping down from the project after a fan outcry regarding domestic violence allegations against him. Now, Chastain will be reunited with The Help filmmaker Tate Taylor, who has swooped in to become the new Eve director.
The Hollywood Reporter brings word about Taylor's hiring, which takes place in the wake of Newton leaving the film. I'll let THR explain why Newton walked:
After the original announcement of the project, a Care2 petition was circulated asking that Chastain — a vocal proponent of the Time's Up movement — drop Newton from the film. In 2010, the Australian filmmaker's then-fiancee Rachael Taylor accused him of "two unprovoked assaults" and was granted a two-year domestic violence order against him, an order he later breached.
Newton wrote the script for Eve, which we still don't know much about – it's been described as a "character-driven action film" and Chastain is rumored to play an assassin. It seems as if they're still going to use Newton's script, even though he was essentially forced out of the director's chair following a groundswell of bad buzz after the project was announced. Chastain has become one of the public faces of #TimesUp, and working closely with someone who has such a checkered past wouldn't have been a great look.
To Newton's credit, it sounds like he stepped down without much of a fight. He released the following statement a couple of weeks ago when he left the movie:
"Yesterday I notified Jessica Chastain and the other producers on the film Eve that I will be stepping down as director. Since the announcement of this film, the responses, which are powerful and important, have not fallen on deaf ears. I am profoundly aware that I have a responsibility to lead where I have failed in the past."
Now Chastain will reunite with Taylor, who directed her to an Oscar nomination in The Help. This isn't the only reunion project for the pair: they're also developing a separate film called The Eyes of Tammy Faye that Chastain intends to produce and star in. Taylor, who also directed Get On Up and The Girl on the Train, seems to have really enjoyed working with the cast of The Help, because he's already reunited with Octavia Spencer on a Blumhouse thriller called Ma that's currently in post-production.