'Once Upon A Time In Hollywood' Finds Its Roman Polanski With Polish Actor Rafal Zawierucha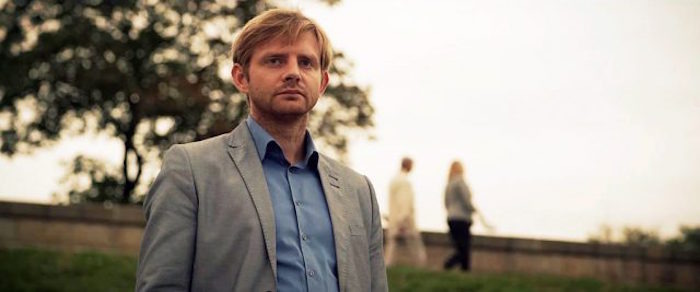 Once Upon a Time in Hollywood has found its Roman Polanski. Polish actor Rafal Zawierucha will play the infamous filmmaker, whose wife Sharon Tate was murdered by Charles Manson's cult followers in 1969.
Also joining Zawierucha in the upcoming Quentin Tarantino movie are Danny Strong and Sydney Sweeney, once again expanding the ever-growing Once Upon a Time in Hollywood cast.
It's official: everyone is going to be in Once Upon a Time in Hollywood. The cast announcements haven't stopped, even in the full swing of production. The Hollywood Reporter announced the latest cast members, which include Danny Strong, the Emmy-winning creator of Fox's Empire (though you may know him best as Jonathan from Buffy the Vampire Slayer), and Handmaid's Tale breakout Sydney Sweeney. But the most intriguing piece of casting is relative unknown Rafal Zawierucha as Roman Polanski.
To say that Polanski is a controversial figure would be an understatement. The renowned filmmaker was behind classics such as Rosemary's Baby and Chinatown, but has been a fugitive from the U.S. justice system for the past 40 years after fleeing trial for drugging and raping a 13-year-old girl. But Polanski was a central figure in the events covered by Once Upon a Time in Hollywood, which will chronicle the journeys of several characters in Los Angeles in the summer of 1969, while the specter of the Manson Family looms. Polanski's pregnant wife Sharon Tate (played by Margot Robbie) and four of her friends were murdered by Charles Manson and his cult followers in Polanski's home in 1969.
Before Tarantino made clear that Once Upon a Time in Hollywood would be about "the year 1969," the project was steeped in controversy, as detailed in Lindsey Romain's piece about the history of the production. The biggest cause of controversy, aside from the prospect of a"notoriously provocative director" paired with a potentially gratuitous subject, was the inclusion of Polanski as a character. Tarantino has found himself in hot water before for defending the filmmaker, who in 1978 was to stand trial for statutory rape, and many worried that Polanski would be portrayed in a glamorous light. But Polanski will reportedly remain a fairly minor character — which is supported by the casting of a relatively unknown Polish actor in the part.
Leonardo DiCaprio and Brad Pitt play the two lead characters: Rick Dalton, former star of a Western TV series, and his longtime stunt double Cliff Booth, respectively. Dalton happens to live next-door to Sharon Tate.
The film also stars Lena Dunham, Dakota Fanning, Damian Lewis, Luke Perry, James Marsden, Timothy Olyphant, Tim Roth and Burt Reynolds.
Once Upon a Time in Hollywood is set for a July 26, 2019 release.