'A Private War' Trailer: Rosamund Pike Fights For The Truth As Slain Journalist Marie Colvin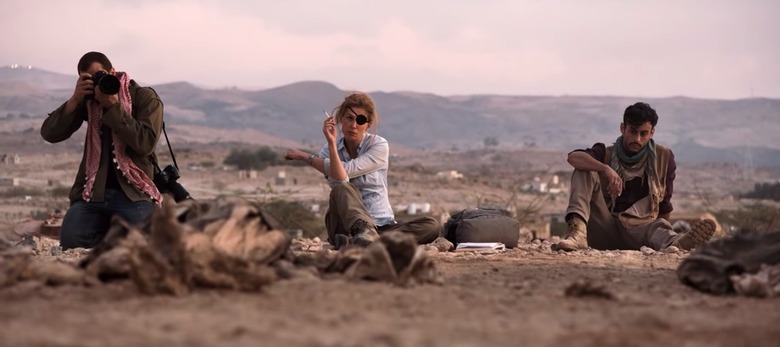 Rosamund Pike should have been launched to stardom following her chilling role in 2014's Gone Girl, for which she received an Oscar nod. But alas, life is unfair and that didn't happen. But four years later, Pike stars in A Private War, the gritty biopic about renowned war correspondent Marie Colvin. Could this be the role that finally earns Pike her place as a bonafide movie star? We'll have to wait and see.
A Private War Trailer
Real-life Sunday Times journalist Marie Colvin may have lost an eye in an unexpected explosion in the field, but she never lost sight of the truth. A Private War pays tribute to Colvin's unrelenting search for the truth, following Colvin's tumultous journey from Sri Lanka — where she loses her left eye — to her confrontations with war-profiteering tyrants. But the film hones in on her most dangerous mission, alongside war photographer Paul Conroy (Jamie Dornan), to the Syrian city of Homs, where she ultimately loses her life in 2012 when she encounters an explosive device filled with nails.
It's wonderful to see Pike, who has long played proper British ladies or cold housewives, get to stretch her acting chops as Colvin in A Private War. Boasting a gruff voice, facial scars, and tangled hair, Pike is worlds away from her character in Gone Girl, and it's a fantastic change of pace. Whether this will be her breakout role after Gone Girl is yet to be seen, but Pike is not to be underestimated.
Written by Arash Amel and directed by Oscar-nominated Cartel Land documentarian Matthew Heineman in his feature debut, the film also stars Stanley Tucci and Tom Hollander.
Here is the official synopsis for A Private War:
In a world where journalism is under attack, Marie Colvin (Academy Award nominee Rosamund Pike) is one of the most celebrated war correspondents of our time. Colvin is an utterly fearless and rebellious spirit, driven to the frontlines of conflicts across the globe to give voice to the voiceless, while constantly testing the limits between bravery and bravado. After being hit by a grenade in Sri Lanka, she wears a distinctive eye patch and is still as comfortable sipping martinis with London's elite as she is confronting dictators. Colvin sacrifices loving relationships, and over time, her personal life starts to unravel as the trauma she's witnessed takes its toll. Yet, her mission to show the true cost of war leads her — along with renowned war photographer Paul Conroy (Jamie Dornan) — to embark on the most dangerous assignment of their lives in the besieged Syrian city of Homs. Based on the extraordinary life of Marie Colvin, A PRIVATE WAR is brought to the screen by Academy Award nominee and critically acclaimed documentary filmmaker Matthew Heineman in his pulse-pounding narrative feature debut.
A Private War opens in select theaters in New York and Los Angeles on November 2, 2018, with a nationwide expansion on November 16, 2018.