Roseanne Will Be Killed Off On ABC's 'The Conners' Spin-Off Series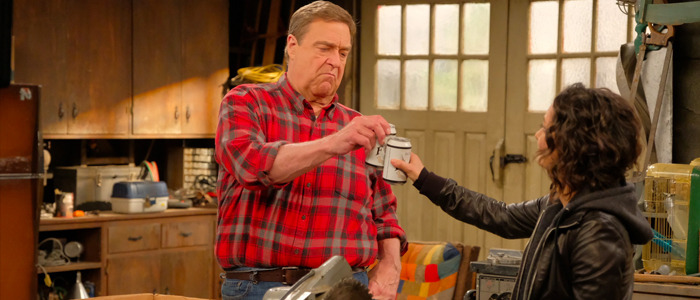 Roseanne Barr was fired from her own show after she made a racist statement on Twitter, so despite the show being a huge ratings success for ABC, the revival of Roseanne is dead. And now the character of Roseanne Conner is going to die, too.
Actor John Goodman, who is starring in the network's upcoming spin-off series The Conners, has just revealed that Roseanne's character is going to be killed off. Read his statement below.
An ABC synopsis pinpoints the reason for The Conners Roseanne absence as "a sudden turn of events."
After a sudden turn of events, the Conners are forced to face the daily struggles of life in Lanford in a way they never have before. This iconic family – Dan, Jackie, Darlene, Becky and D.J. – grapple with parenthood, dating, an unexpected pregnancy, financial pressures, aging and in-laws in working-class America. Through it all, the fights, the coupon cutting, the hand-me-downs, the breakdowns – with love, humor and perseverance, the family prevails.
Now, thanks to Goodman, we know that the turn of events involves Roseanne Conner's death. In an interview with The Times (via Deadline), Goodman spoke about his character Dan Conner's state of mind on the new show:
"It's an unknown. I guess he'll be mopey and sad because his wife's dead."
While Goodman doesn't sound sure about Dan's temperament, he does seem sure that Roseanne Conner is going to die. But I suppose you could technically read his comment as being wholly speculative too, so I suppose you should take it with a grain of salt to be safe.
In May, Roseanne Barr – an outspoken supporter of Donald Trump and frequent propagator of factually inaccurate conspiracy theories – tweeted a racist statement ("Muslim brotherhood & planet of the apes had a baby=vj"), with the "vj" meaning Valerie Jarrett, a former senior adviser to President Barack Obama. Some of Barr's writing staff, including Wanda Sykes, left the program over the incident, and though this wasn't the first time Roseanne had done something controversial, but it was finally enough for ABC to take action. The network cancelled her show – a massive ratings hit – and ABC Entertainment president Channing Dungey released a statement to the press explaining the show's cancellation:
"Roseanne's Twitter statement is abhorrent, repugnant and inconsistent with our values, and we have decided to cancel her show."
In The Times interview, Goodman explained his reaction to the show's cancellation:
"I was surprised. I'll put it this way, I was surprised at the response. And that's probably all I should say about it...I know, I know, for a fact that she's not a racist."
After the cancellation, ABC decided to greenlight a spin-off show, which is set to star Roseanne's supporting cast: Goodman, Laurie Metcalf, Sara Gilbert, Lecy Goranson, and Michael Fishman. They all signed contracts for one year, and it'll be interesting to see if The Conners Roseanne death plays out off screen since the actress herself won't be coming back to reprise the role again. Barr will not have any financial or creative involvement in the spin-off series, which premieres on ABC on October 16, 2018.