Johnny Depp's Notorious B.I.G. Movie 'City Of Lies' Being Shopped To Other Studios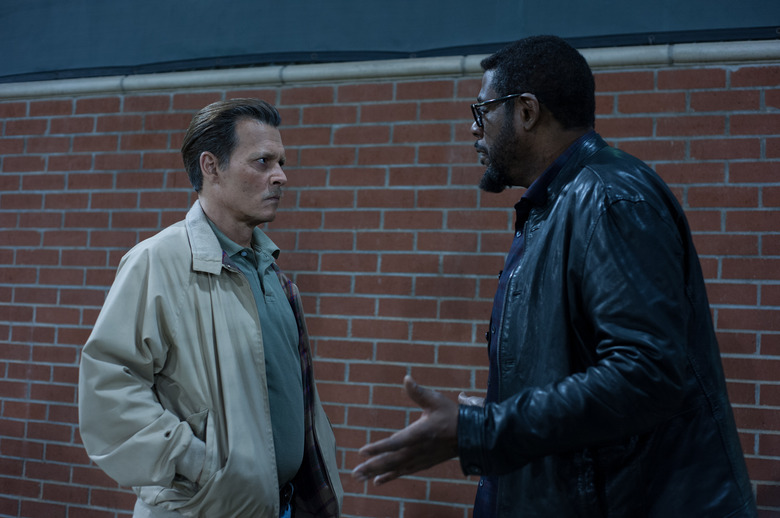 We recently wrote about how City of Lies, a movie starring Johnny Depp and Forest Whitaker that takes place in the aftermath of rapper Biggie Smalls' murder, was pulled from the release calendar. At the time, reports implied that the primary reason for the movie being yanked was a lawsuit filed against Depp by the film's location manager, but it appears there were more problems brewing beneath the surface. Distributor Global Road Entertainment is in financial trouble, and they're now shopping City of Lies around to other studios.
Movie fans might recall the title card for a company called Open Road Entertainment. They released films like Spotlight, End of Watch, and The Grey. Last year, a mogul named Donald Tang bought Open Road and combined it with IM Global to form a company called Global Road Entertainment. But they've encountered some major stumbling blocks since then, including releasing a movie about a boy and his robot dog called A.X.L. this weekend that pulled in less than $3 million.
Things are so bad that The Wrap reports that the company's film division is having to sell off finished movies so its investors can recoup their money and so Global Road can avoid bankruptcy. City of Lies is one of the projects being offered up, alongside a live-action/animation hybrid called Playmobil and a horror film called The Silence that stars Mad Men and The Chilling Adventures of Sabrina star Kiernan Shipka.
The Hollywood Reporter says that the staff of Global Road Entertainment is now preparing for layoffs. Even if they're able to sell off all of their completed movies, it remains unclear if the company will be able to weather the storm or if they'll need to file for Chapter 11 bankruptcy. Screenings are reportedly being set up to see if other studios are interested in acquiring any of those lingering projects.
Here's the trailer for City of Lies, which is embroiled in all of this madness as well as a lawsuit that alleges Depp assaulted one of his co-workers:
Brad Furman (The Lincoln Lawyer, The Infiltrator) directed the film, which featured a script by actor-turned-screenwriter Christian Contreras. Here's the official synopsis:
Based on the true story of one of the most notorious and unsolved cases in recent memory, CITY OF LIES is a provocative thriller revealing a never-before-seen look at the infamous murder of The Notorious B.I.G. shortly following the death of Tupac Shakur. L.A.P.D. detective Russell Poole (Johnny Depp) has spent years trying to solve his biggest case, but after two decades, the investigation remains open. "Jack" Jackson (Forest Whitaker), a reporter desperate to save his reputation and career, is determined to find out why. In search of the truth, the two team up and unravel a growing web of institutional corruption and lies. Relentless in their hunt, these two determined men threaten to uncover the conspiracy and crack the foundation of the L.A.P.D. and an entire city.