First Reactions To The 'Aquaman' Test Screenings Surface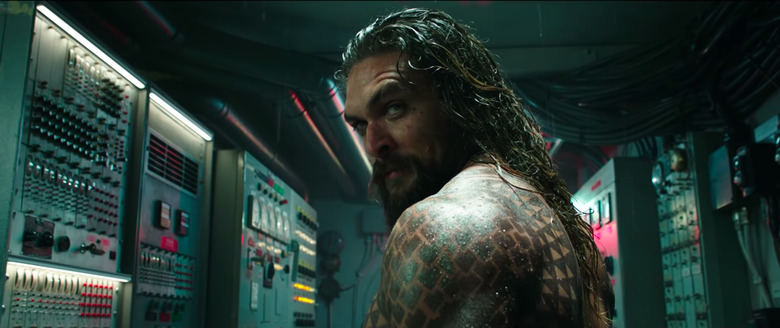 Aquaman gave a select few audience members permission to come aboard for early test screenings of the Warner Bros. DC Extended Universe film. So what's the verdict? A little murky, since audience members didn't share more than a few vague reactions to the comic book movie. But for the most part, it seemed like Aquaman made quite a splash.
According to Collider's Steven Weintraub, some test screenings for Aquaman were recently held in Los Angeles, including the San Fernando Valley. And it seems like there isn't an embargo for these screenings, as reactions have already started spilling out. And good news everyone: they're mostly positive.
Guess which upcoming superhero movie test screened last night in the San Fernando Valley? Heard good things.... pic.twitter.com/3MMxcCHPaj

— Steven Weintraub (@colliderfrosty) August 24, 2018
While Weintraub "heard good things" about the film (including a very illustrative gif of cartoon Aquaman shaking his behind), Omega Underground's Christopher Marc similarly reported on some hearsay, which was a little more muted to him.
I hear it's good (not great) and that's all we can hope for in the end. I'll take it. pic.twitter.com/abrW3fEOgr

— Christopher Marc (@_ChristopherM) August 24, 2018
Marc went on to further elaborate in his replies, saying (via The Mary Sue), "I haven't heard anything negative," but adding that he had heard comparisons to the much-maligned Marvel sequel Thor: The Dark World. So, there's some confusing reactions coming out of the Aquaman test screenings.
But Geeks WorldWide Editor-in-Chief gives the reactions a little more color by comparing Aquaman to a "phase 1 MCU film," which is decidedly higher in quality than Thor: The Dark World...until you remember that Iron Man 2 was in Phase 1.
#Aquaman is a phase 1 MCU film through and through, so if you liked those you'll love it, if you didn't you probably won't get much enjoyment out of Aquaman pic.twitter.com/ydH7XT1GK4

— KC Walsh (@TheComixKid) August 24, 2018
It has nothing to do with charactization, Aquaman is a reluctant hero, and needs to save the world via a mcguffin, thats MCU 101

— KC Walsh (@TheComixKid) August 24, 2018
But while that once again gives us the impression of a mixed bag, it paints a decidedly brighter picture for Aquaman. Phase 1 of the MCU was a bold, unpredictable, experimental time during which Marvel Studios was still trying to nail its voice. Depending on what you like out of a Marvel movie, that could be a very exciting verdict for Aquaman, and is probably the best descriptor for this polarizing film. It's a mixed bag where some things work, some things don't, but overall you can't fault it for trying. And hey, at least it looks like it's having a ball.
Aquaman is directed by James Wan and stars Jason Momoa, Amber Heard, Willem Dafoe, Temuera Morrison, Dolph Lundgren, Yahya Abdul-Mateen, Patrick Wilson, and Nicole Kidman. It hits theaters on December 14, 2018.