'Halloween' Novelization Will Give Readers One Good Scare This October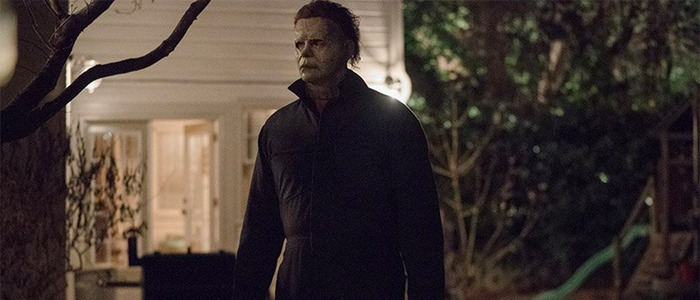 If watching the new Halloween movie won't be enough to satisfy your Michael Myers craving this October, you're in luck: an official Halloween novelization is arriving to coincide with the film release. John Passarella penned the novelization, which will hit bookstores a few days after Halloween opens in theaters everywhere.
Movie novelizations have become something of a niche item in recent years, but there was a period when virtually every major Hollywood production would commission one – I even remember having a novelization of the Arnold Schwarzenegger horror movie End of Days when I was younger. Now, movie novelizations seem to be relegated to only big movies, like Star Wars. But Halloween is going to make an exception.
Bloody Disgusting reports a novelization of the upcoming David Gordon Green film will hit bookstores on October 23, a few days after the film's October 19 release date. Here's the official book synopsis, which provides a bit more insight into the plot of the movie:
In 1978, Laurie Strode survived an encounter with Michael Myers, a masked figure who killed her friends and terrorized the town of Haddonfield, Illinois on Halloween night. Myers was later gunned down, apprehended and committed to Smith's Grove State Hospital.
For forty years, memories of that nightmarish ordeal have haunted Laurie and now Myers is back once again on Halloween, having escaped a routine transfer, leaving a trail of bodies in his wake. This time, Laurie is prepared with years of survival training to protect herself, her daughter Karen and her daughter Allyson, a teenager separated from her family and enjoying Halloween festivities.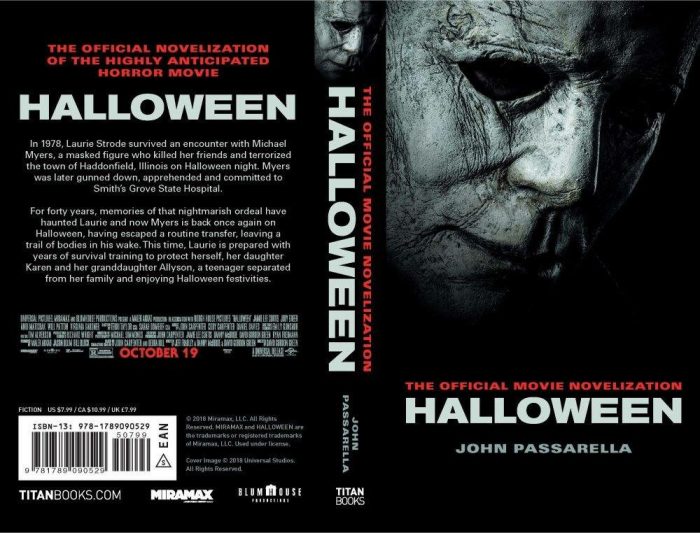 This synopsis is yet more confirmation of how the new Halloween is ignoring the majority of the sequels, and even retconning the ending of John Carpenter's original. At the climax of Carpenter's film, Michael Myers was shot six times by his former psychiatrist, Dr. Loomis. Michael fell off a balcony onto a lawn, appearing to be dead – only to vanish moments later. Michael then went on to wreck havoc across multiple sequels, but the new Halloween changes things up to have Michael captured and re-committed to Smith's Grove State Hospital following the end of the first film.
When done well, movie novelizations can be rewarding. Writers will often add insight and background info that doesn't make it into the final film, fleshing things out considerably. The novelization of the first Halloween, published in 1979, added a plethora of details that weren't in Carpenter's film. For instance: there's an entire prologue set thousands of years in the past. The Halloween Wikipedia has a brief summation of this prologue:
The prologue of the novel takes place at the dawn of the Celtic race in Ireland and tells the story of a young 15-year-old disfigured boy named Enda who is passionately in love with the King Gwynwyll's daughter, Deirdre. After being severely humiliated for attempting to win her love Enda attacks and brutally slays Deirdre and her fiancé at a community ritual event on Halloween. Enda is immediately killed by the other members of the village and his soul cursed to wander the Earth forever, re-creating the events of that night.
Adding this material to the film itself would've likely made the original Halloween less effective, but in book-form, it works and works toward creating a fuller, richer story. Perhaps this new Halloween novelization will follow suit. We'll know for sure when the book arrives in October. For the time being, enjoy this new image from the movie via Fandango.
Michael Myers is back for #Halloween

🎃10.19.2018 🎃

🍂Fandango Exclusive #FallMoviePreview Image 🍂 pic.twitter.com/JzpeD00GXK

— Fandango (@Fandango) August 27, 2018