Netflix Scares Up 'The Haunting Of Hill House' Images, Reveals Halloween Season Release Date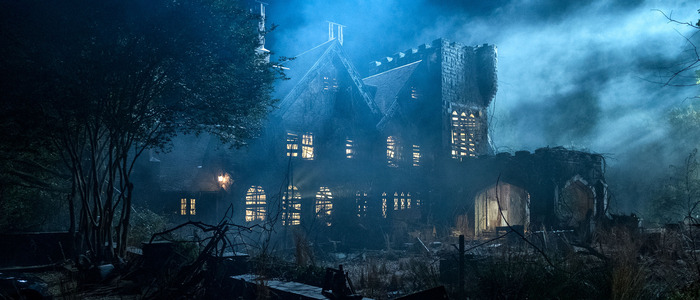 Mike Flanagan is bringing Shirley Jackson's classic haunted house novel The Haunting of Hill House to Netflix – just in time for Halloween. New, enigmatic Haunting of Hill House images have arrived online, and with them, the official release date of the new series from the director of Oculus and Gerald's Game.
Shirley Jackson's 1959 novel The Haunting of Hill House remains the gold standard of haunted house stories. Jackson's tale of terror is tame by today's standards – very little actually happens – but the book is loaded with so much psychological dread that it seeps its way into your bones, and makes your blood run cold. There have been page-to-screen adaptations of Hill House before, but now Netflix and Mike Flanagan are going to give it a go. Flanagan, one of the best horror filmmakers working today, created, executive produced and directed the new 10-episode series. Netflix (by way of EW) released a whole new batch of Haunting of Hill House images to start getting you excited for the series. The images are mysterious, moody and hint at a much different take on the material than we've seen before.
It's almost impossible to glean what Flanagan's series is going to be about based on this images, but anyone who has read the book will immediately recognize how different this looks from the source material. For reference, here's the original book's synopsis:
The story of four seekers who arrive at a notoriously unfriendly pile called Hill House: Dr. Montague, an occult scholar looking for solid evidence of a "haunting"; Theodora, his lighthearted assistant; Eleanor, a friendless, fragile young woman well acquainted with poltergeists; and Luke, the future heir of Hill House. At first, their stay seems destined to be merely a spooky encounter with inexplicable phenomena. But Hill House is gathering its powers—and soon it will choose one of them to make its own.
Flanagan's take appears to have a focus on a family, which is a big departure from the book. Here's how EW describes the series:
Hill House follows a family both in modern day and in the past as they deal with the ghosts, both literal and figurative, that have come to haunt them.
I'm both intrigued and concerned. I'm all for a new take on Jackson's story, but if the script is going to deviate so heavily from the original book, why call it The Haunting of Hill House at all? Why not tell a brand-new haunted house story? It's still too early to judge, and I have faith in Flanagan, who has consistently delivered strong, memorable, and effective horror movies throughout his career.
Jackson's novel was adapted to the screen twice before. First in 1963, with Robert Wise's moody, faithful adaptation The Haunting. Then again in 1999, with Jan de Bont's terrible, CGI-heavy The Haunting, which traded the book's atmospheric dread for cartoon ghosts and jump-scares. At the very least, I'm sure Flanagan's take will be better than the 1999 film.
In addition to the images, here's a spooky teaser.
Don't you want to come home? The Haunting of Hill House is only on Netflix October 12. pic.twitter.com/xqeLg7Of0E

— Midnight Mass (@midnightmass) August 27, 2018
The Haunting of Hill House, starring Michiel Huisman, Carla Gugino, Timothy Hutton, Elizabeth Reaser, and Henry Thomas, will hit Netflix on October 12, 2018, just in time for Halloween season.