'Bad Times At The El Royale' Trailer: Drew Goddard's New Movie Takes Hotel Horror Stories To Another Level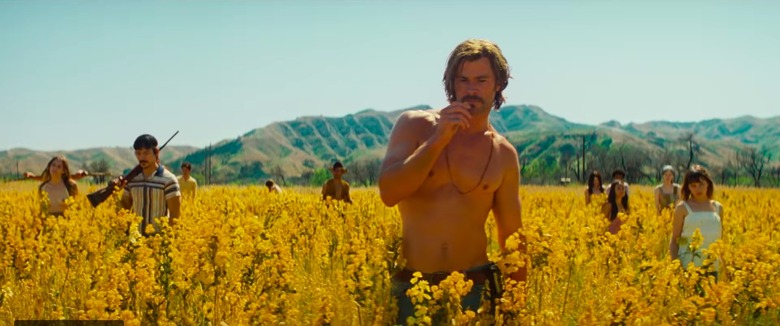 Drew Goddard gives new meaning to the term "hotel horror stories" with the trailer for his stylish new thriller, Bad Times at the El Royale.
The Cabin in the Woods director's latest film features a frequently shirtless, sometimes wet, Chris Hemsworth as a cult leader who descends upon a strange novelty hotel and its unsuspecting guests, played by Jon Hamm, Jeff Bridges, Dakota Johnson, and Cynthia Erivo. Now, a new Bad Times at the El Royale trailer invites us in to be part of the whole star-studded affair.
Bad Times at the El Royale Trailer
20th Century Fox has blessed us with a new trailer for Bad Times at the El Royale with even more scary and shirtless Hemsworth. But we were already checked in and ready to roll with the first red- and green-band trailers that debuted two months ago. No, maybe even before that, when we heard that Goddard was reunited with his Cabin in the Woods star Hemsworth to helm a horror-tinged noir.
Set in the 1960s, Bad Times at the El Royale follows seven strangers who find themselves at the El Royale, a novelty hotel at the border of California and Nevada. But as the strangers — which include a preacher (Bridges), a vacuum cleaner salesman (Hamm), Southern gangster (Johnson), and a former singer (Ervo) — settle into their rooms, they discover that something strange is afoot inside and outside the hotel.
Bad Times at the El Royale is Goddard's highly anticipated follow-up to his lauded directorial debut, The Cabin in the Woods. He writes and directs the film, which also stars Cailee Spaeny, Lewis Pullman, and Nick Offerman.
Here's the official synopsis for Bad Times at the El Royale:
Seven strangers, each with a secret to bury, meet at Lake Tahoe's El Royale, a rundown hotel with a dark past. Over the course of one fateful night, everyone will have a last shot at redemption... before everything goes to hell. Jeff Bridges, Chris Hemsworth, Jon Hamm, Dakota Johnson and Cynthia Erivo lead an all-star cast in BAD TIMES AT THE EL ROYALE.
Bad Times at the El Royale opens in theaters on October 18, 2018.