MoviePass Refunding Annual Memberships, Switching Users To Limited Monthly Plans, Needs To Give Up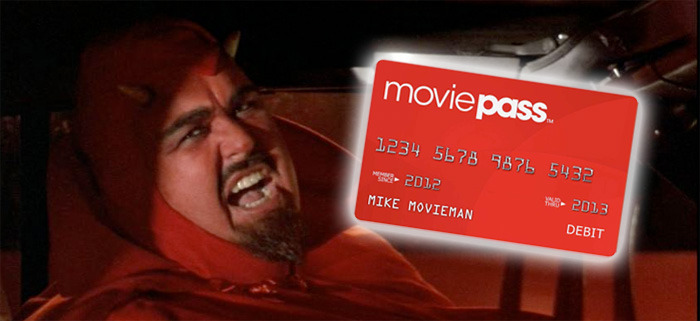 MoviePass didn't create any problems for customers last weekend, but they're definitely making up for that fluke with their latest decision to screw over their members.
The movie ticket subscription service that has been struggling for weeks to stay afloat sent out an e-mail to their annual subscription holders with some bad news. MoviePass gave annual membership customers the option to either opt in to a new monthly limited subscription plan of three movie tickets each month (from a limited and constantly changing selection of movies in theaters) or cancel their membership with a prorated refund instead. What a deal!
The latest MoviePass mistake comes from The Verge, who made us aware of the latest change. The e-mail says:
"We want to thank you for being a loyal member of our annual MoviePass plan. Your commitment to MoviePass has contributed to making our vision for an accessible and affordable moviegoing experience a reality. After experimenting with different models and options, we believe that our current monthly plan captures the need of our community — keeping prices low while continually striving to offer a wider selection of films."
No, MoviePass. The need of your community was a service that offered unlimited movie tickets at a low price, preferably by a company that knew how to sustain itself rather then endlessly pulling the rug out from under its customers. That's what the MoviePass community needs, and you've done nothing but show them that what they want doesn't matter in the least. It's all about you desperately trying to stay in business because you have no idea what the hell you're doing.
So those of you with annual MoviePass memberships now have to convert over to the new monthly plan. Here's what you'll be getting if you choose to stick with MoviePass for some reason:
"As of today, aligned with Section 2.4 of our Terms of Use, your annual subscription plan will now allow you to see 3 movies a month instead of the previous unlimited offering, and you'll receive up to a $5.00 discount on any additional movie tickets purchased. This is the current standard plan now in effect for all current and new subscribers. Unless you choose to cancel your subscription prematurely, your plan will continue within these guidelines through the end of your annual contract. Additionally, in making these adjustments to our annual plans, we intend to expand our offering of blockbuster and independent films so you can discover a wider variety of movies."
The only upside of this latest development is MoviePass saying they'll "expand our offering of blockbuster and independent films," so maybe the limited roster of movies available through the service won't be quite as limited in the future. But we've learned not to trust anything MoviePass does, so maybe don't hold your breath.
Don't forget, shareholders are already suing MoviePass for fraud. Meanwhile, AMC Stubs A-List recently re-upped their commitment to not change their service or price for at least a year. So you can choose to cancel MoviePass before August 31 and jump the ship over to AMC Stubs A-List (which gives you three movie tickets each week for $19.95 a month plus other benefits), or you can stick with this Hindenburg of a subscription services while it lasts.