Marvel Studios Pushing 'Black Panther' For Best Picture, Won't Just Settle For New Popular Film Oscar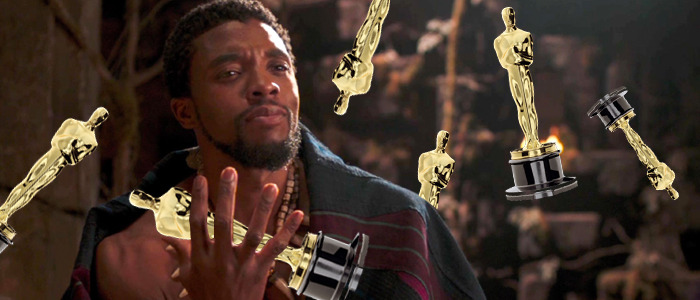 There's been a lot of talk about the creation of a new category at the Academy Awards which will be dedicated to "outstanding achievement in popular film" and how the Academy could use that as a way to honor Ryan Coogler's Black Panther instead of giving it a Best Picture nomination. But Marvel Studios isn't interested in settling for second best – they're going all in on a Best Picture Oscar campaign for the game-changing blockbuster. Read more about their attempts to score a Black Panther Best Picture Oscar below.
Black Panther was mentioned so frequently during this year's Oscar ceremony that you could tell the voters would have gladly given it a nomination right then and there if they could. But passion can fade with time, and this newly-created Popular Oscar is seen by many as the Academy grasping for a way to honor movies of that caliber and not look completely out of touch in the event that they don't secure a Best Picture nomination.
In a revealing new piece in the Los Angeles Times, though, a Disney spokesperson says that the new category "has not changed Disney's best picture plans for Black Panther in any way." In fact, Marvel Studios president Kevin Feige is "backing the move with a significant awards season budget, a commitment Marvel has never before made." They're gunning for Best Picture – and probably plenty of other categories, too. They have a legit shot at getting nominations for cinematography, costumes, production design, hair and makeup, and maybe even Best Supporting Actor for Michael B. Jordan's memorable Erik Killmonger.
We still don't know too much about the new Oscar category, but the Academy has since clarified that the same film can win both Best Picture and the Popular Oscar. A governor told the L.A. Times that the group's intentions with the new category have been "radically misunderstood," although the leadership has yet to explain how or why that's the case.
We know Disney/Marvel is making a play for the most significant award of the night, but here's a question for you: will they avoid campaigning for the new category altogether, or could they lean in and try to go for both and rack up their Oscar count? Would campaigning for both hurt their chances for Best Picture? How does a studio even go about campaigning for a Popular Oscar? Do they put out promos hyping their box office haul, or maybe cut together sizzle reels of fans losing their minds in the theater? What's that? Oh, you're right, that's way more than one question. Sorry – I got carried away.
Either way, Kevin Feige is keeping his eye on the Best Picture prize:
"I would like to see the hard work and the effort and the vision and the belief of the talented filmmaker Ryan Coogler, who sat across the table from us a few years ago and said, 'I have been wrestling with questions about my past and my heritage and I think I really want to tell a story within this movie.' And that he did it so unbelievably well and with so much impact...seeing that potentially being recognized is what excites me the most."