George Clooney Is 2018's Highest-Paid Actor, And He Didn't Even Make A Movie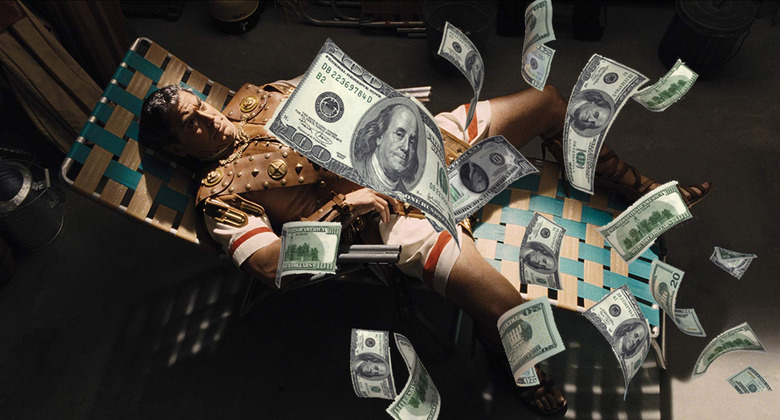 It used to be that the biggest movie star with the best-performing movie would be guaranteed the top spot in Forbes' list of highest paid actors. But times, they are a-changin', as the highest paid actor of 2018 didn't even star in a movie last year, and several of the top spots went to actors who worked exclusively with streaming.
George Clooney has been named the highest paid actor of 2018, raking in $239 million from June 2017 to June 2018. And it's all thanks to tequila.
According to the Forbes World's Highest-Paid Actor list for 2018, George Clooney managed to edge out Dwayne Johnson for the top spot, despite not appearing in any major movies. So how did he manage to make a pre-tax income of $239 million?  *Drum beat* Tequila!
Clooney sold his liquor company, Casamigos Tequila, for up to $1 billion last year, handing the Money Monster actor a nice, fat paycheck that guaranteed that he didn't need to star in a movie in between attending the royal wedding and directing the 2017 flop Suburbicon (which was completed before the window of time that Forbes surveyed for its 2018 list).
Clooney's career-high earnings pushed out Johnson for the top spot, who many predicted would get the title this year if just for the man's manic work ethic, which saw him starring in a whopping five (!) movies in the last year including the insanely successful Jumanji: Welcome to the Jungle. But Johnson did nab the No. 2 spot, raking in $124 million pretax. Unexpectedly, Johnson's massive social media following was also credited for his high placement, allowing him to "negotiate an extra seven figures atop his standard contract for promotion, helping nearly double his 2017 earnings." If the historic Red Notice bidding war is any indication, Johnson's hot streak will continue into 2018 too.
Robert Downey Jr. takes the No. 3 spot with $81 million while his Avengers: Infinity War co-star Chris Hemsworth's $64.5 million scored him No. 4 (no other Chris can beat the Marvel two-punch of Thor: Ragnarok and Infinity War). Meanwhile, Jackie Chan rounds out the top 5 with $45.5 million, proving that the Chinese box office is nothing to sneeze at. International stars Akshay Kumar and Salman Khan also take spots in the top 10.
Interestingly, two of the higher slots in the list, Adam Sandler (No. 8) and Will Smith (No. 6) didn't appear in major movies last year either — at least, that were released in theaters. Both Sandler and Smith reaped the lucrative benefits of partnering with Netflix, which gave them massive paydays for films like Sandy Wexler and Bright, respectively. This could be the beginning of Netflix becoming a major force on the Forbes' list, as more people choose the couch over the theater. Except for the ongoing disparity between Hollywood's top-paid actresses and actors, times are a-changin' indeed.