Netflix Original Movies Plan To Shift Focus To Marvel-Like Blockbusters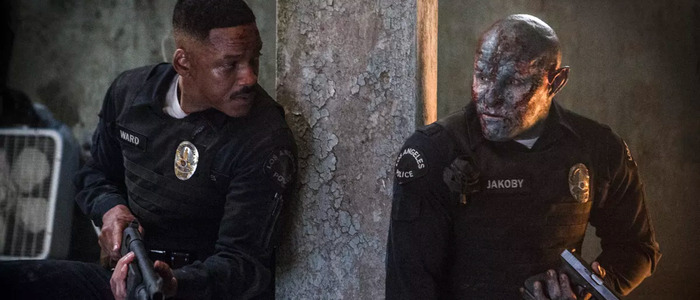 Netflix knows people don't take its movies seriously. The streaming giant has earned a reputation for taking projects that other studios have passed on or were too nervous to bring to theaters. But they are determined to change the perception of Netflix original films. And to start things off, the streaming service will push for more blockbusters and prestige flicks.
Netflix film division chief Scott Stuber is looking for a "watercooler movie" that will launch Netflix original movies to the same level of prestige as Netflix TV. Something that will rival the pop culture clout of Stranger Things or the award-winning streaks of The Crown. But how does he plan to do it? According to a new report from The Hollywood Reporter: more tentpoles. Oh, and more prestige movies too.
The Hollywood Reporter writes:
His team now is telling agents and producers they want movies as big as Marvel superhero pics and Lord of the Rings-style fantasy fare or prestige projects they can campaign for awards. Netflix is also planning more rom-coms (like the buzzy Set It Up and The Kissing Booth), a genre that internal metrics show is massively watched and has been largely abandoned by major studios (save the current Crazy Rich Asians, which Netflix bid on but lost because its creators wanted the buzz of a theatrical release).
The report lists high-profile projects such as Ethan and Joel Coen's The Ballad of Buster Scruggs, Alfonso Cuaron's Roma, Paul Greengrass' 22 July, and a reconstructed version of Orson Welles' The Other Side of the Wind, as the vanguard in Stuber's Netflix film strategy. With Netflix backing buzzy projects from acclaimed, award-winning directors — and premiering all of them at the esteemed Venice Film Festival, no less — it could land the company that sought-after "watercooler movie." Or they could fall by the wayside like Netflix's other award-bid movies (justice for Mudbound).
However, it's the tentpole part that sounds a little counterintuitive to Stuber's ultimate goal. But it's all in line with the streaming company's strategy of bigger names means bigger bucks. After all, the critically-maligned Bright was Netflix's biggest success, so it makes sense that the company will keep trying to replicate it (the Death Note sequel, on the other hand, is a mystery).
Chief content officer Ted Sarandos reportedly teased "we're also doing a lot of the big event films with A-list directors" but "it will take another year or so as we get into it." That includes committing between $150 million and $170 million for Michael Bay's next big film, Six Underground, an action film starring Ryan Reynolds. Netflix is also spending big on Martin Scorsese's The Irishman, which is said to have a budget between $120-150 million. And of course, there's the big-budget Bright 2.
So what does the future of Netflix movies look like? It's too soon to know for sure, but expect bigger names and even bigger cash-loads as Netflix aggressively woos filmmakers for its dream of a "watercooler movie."