'Overlord' Extended Preview Coming To IMAX Theaters To Promote WWII-Set Sci-Fi Horror Thriller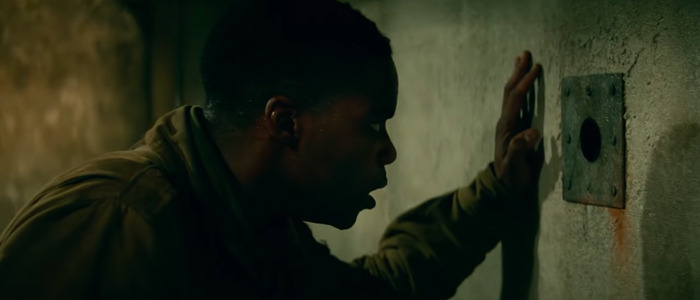 At CinemaCon earlier this year, producer J.J. Abrams explained that Julius Avery's upcoming movie Overlord, a sci-fi horror thriller set during World War II, is not a Cloverfield film. Abrams promised that a "proper" Cloverfield sequel is on the way, leaving us to wonder if Overlord truly is just simply a low budget, standalone thriller from Bad Robot Productions, or whether Abrams, the master manipulator, is trying to pull the wool over our eyes once again.
We'll get one step closer to the truth before long, because a new report says that an Overlord extended preview is coming to IMAX theaters very soon.
Trailer-Track.com reports that an exclusive nearly four-minute look at the new movie is coming to North American IMAX theaters in the next few weeks. Alberta Film Ratings rated new IMAX exclusive content for Overlord that clocks in at three minutes and forty-three seconds. That's longer than the average movie trailer, and about the same length of time as the IMAX preview for Damien Chazelle's new Neil Armstrong movie First Man, which /Film's own Peter Sciretta saw recently (he talked about it on a recent episode of the /Film Daily podcast).
Extended previews like these have happened for movies like The Dark Knight, The Dark Knight Rises, Dunkirk, and others in the past. This could give a much-needed publicity boost to Overlord, a film that shocked CinamaCon crowds with intense, graphic footage but hasn't yet captured the imagination of general audiences yet. (Overlord's official trailer only has 4.5 million views on YouTube, compared with something like Mission: Impossible – Fallout's 29 million.)
Overlord is directed by Julius Avery (Son of a Gun) and stars Wyatt Russell (22 Jump Street), Jovan Adepo (Fences), Jacob Anderson (Game of Thrones), Pilou Asbæk (Game of Thrones), Iain De Caestecker (Agents of S.H.I.E.L.D.), John Magaro (The Big Short), and Bokeem Woodbine (Fargo).
Trailer-Track suggests that because the movie is rated R, this extended preview could be paired with films like The Nun or The Predator, both of which open in September.
Here's the film's official synopsis:
On the eve of D-Day, paratroopers drop behind enemy lines to carry out a crucial mission for the invasion. As they approach their target, they soon begin to realize there's more going on in the Nazi-occupied village than a simple military operation.
Overlord will premiere at this year's Fantastic Fest in Austin, Texas in September, and it will arrive in theaters on November 9, 2018.