'The Predator' Box Office Tracking: Shane Black's Sequel Aims For $30 Million Opening Weekend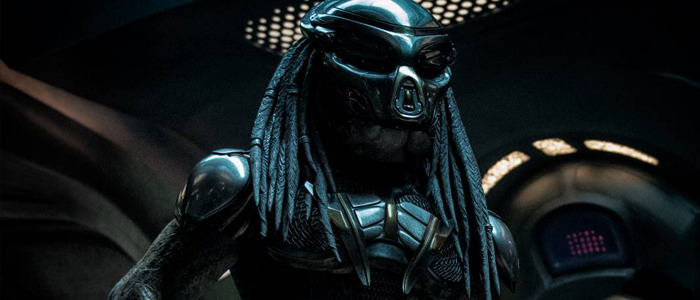 Shane Black's The Predator is using the titular alien's triangular laser targeting system to zero in on a $25-$30 million opening weekend for the upcoming sci-fi sequel. That's a far cry from Iron Man 3's gigantic opening, but a significant improvement over Black's previous film, The Nice Guys. Read more about The Predator box office tracking below, and see how the sequel stacks up against the other movies in the franchise.
According to Variety, early tracking numbers suggest that The Predator could open to between $25 and $30 million dollars. (That's 25 million, not $25 dollars. This isn't Billionaire Boys Club.)
If that estimate proves accurate, it would top the opening weekends of Predator ($12 million in 1987, which would be $28 million in 2018 dollars adjusting for inflation), Predator 2 ($8.7 million in 1990, which would be $16 million in 2018 dollars), and Predators ($24 million in 2010, which converts to $27 million in 2018 cash). All numbers are borrowed from Box Office Mojo.
How would a $25 to $30 million opening would compare to other movies that Black has directed so far? It would be a solid number for him. 2005's excellent Kiss Kiss Bang Bang opened to just $180,660, and The Nice Guys opened to just over $11 million. Iron Man 3 opened to $174 million, but coming off the success of The Avengers and with the weight of MCU fandom behind it, it seems almost unfair to even include that movie in this conversation.
This will be the first solo Predator movie since Predators, but from what we can gather, this one basically ignores that film's existence. Instead, it picks up after the events of the first two movies, upping the stakes with a story that features the aliens coming to Earth after discovering how to genetically upgrade themselves with the DNA of animals to make them better killers. The cast includes Boyd Holbrook, Trevante Rhodes, Jacob Tremblay, Keegan-Michael Key, Olivia Munn, Sterling K. Brown, Alfie Allen, Thomas Jane, Augusto Aguilera, Jake Busey, and Yvonne Strahovski.
Here's the movie's official synopsis:
From the outer reaches of space to the small-town streets of suburbia, the hunt comes home. The universe's most lethal hunters are stronger, smarter and deadlier than ever before, having genetically upgraded themselves with DNA from other species. When a boy accidentally triggers their return to Earth, only a ragtag crew of ex-soldiers and a disgruntled science teacher can prevent the end of the human race.
The Predator will have its world premiere at this year's Toronto International Film Festival on September 6, 2018 before opening in theaters nationwide on September 14, 2018.