Apple's 'Foundation' TV Series Is Actually Happening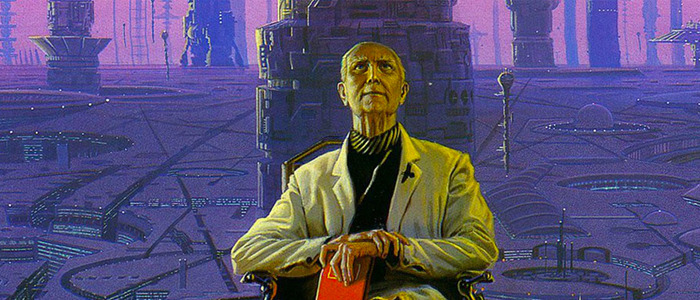 Apple is moving forward with their previously-announced Foundation TV series. The Isaac Asimov adaptation has landed a 10-episode straight-to-series order for Apple's fast-developing streaming service. Batman v Superman writer David S. Goyer and War of the Worlds writer Josh Friedman will serve as executive producers and showrunners on the series, which will try to turn Asimov's complex saga into something cinematic.
Deadline confirms the news that Apple is making Foundation a reality. Asimov's Foundation series is complex and sprawling, so let's turn to the always-accurate Wikipedia for a breakdown on the basic story:
The premise of the series is that the mathematician Hari Seldon spent his life developing a branch of mathematics known as psychohistory, a concept of mathematical sociology. Using the laws of mass action, it can predict the future, but only on a large scale. Seldon foresees the imminent fall of the Galactic Empire, which encompasses the entire Milky Way, and a dark age lasting 30,000 years before a second great empire arises. Seldon's calculations also show there is a way to limit this interregnum to just one thousand years. To ensure the more favorable outcome and reduce human misery during the intervening period, Seldon creates the Foundation – a group of talented artisans and engineers positioned at the twinned extreme ends of the galaxy – to preserve and expand on humanity's collective knowledge, and thus become the foundation for the accelerated resurgence of this new galactic empire.
The journey from page to screen for Foundation has been long. New Line Cinema spent millions try to adapt the Foundation trilogy to the screen, but couldn't quite crack it. Columbia Pictures and Sony then scooped up the rights in 2009, with hopes of having Independence Day director Roland Emmerich helm the adaptation. That fell through as well, and HBO acquired the rights in 2014. Jonathan Nolan came aboard to produce and write the series, but this version also never came to pass (Nolan would go off and make Westworld for HBO instead).
Now, here we are. In 2017, Skydance struck a deal with the Asimov estate for the rights, and hired Goyer and Friedman to make a Foundation TV series a reality. Apple got involved in April of this year, and have now gone ahead and given the show a straight-to-series order. But will it work? Asimov's Foundation saga is iconic, and influential, but it's also not inherently cinematic. Major changes will likely have to be made to make the series pop more for wider audiences.
No matter how it turns out, Foundation looks to be yet another ambitious project for Apple as they develop their streaming service. The series joins other big projects like a thriller from M. Night Shyamalan, a sci-fi series from Ron Moore, a Time Bandits adaptation, several comedies, and more.