'Top Gun: Maverick' Taking Jon Hamm And Ed Harris To The Danger Zone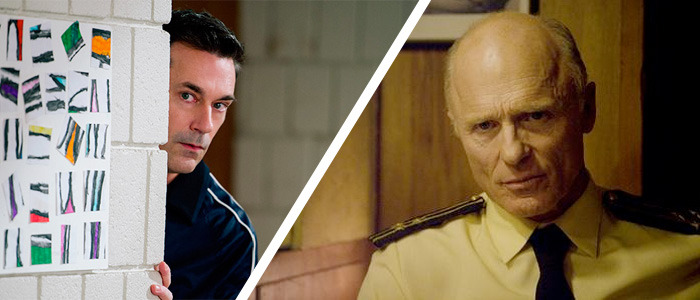 Yesterday, the cast of Top Gun: Maverick added some young faces to the mix, filling out what appears to be a new slate of trainees who will go through a rigorous flight school training regimen. But we'll be getting some more grown-up faces as well.
Jon Hamm and Ed Harris are joining the cast, and it's not too hard to picture them being among the upper tiers of a naval flight school program.
The Hollywood Reporter has word on Jon Hamm and Ed Harris joining the cast, however, their roles in the movie are being kept under wraps. Ed Harris feels like he would fit perfectly in the kind of role that James Tolkan or Michael Ironside played in the original Top Gun. Jon Hamm feels like he could fit into one of those roles too, but he could also be a more easygoing trainer or pilot in the Top Gun program.
Along with Hamm and Harris (which needs to be a new folk duo immediately), the Top Gun Maverick cast has also added Lewis Pullman, the son of Independence Day star Bill Pullman. The 25-year old actor was most recently seen in the horror sequel The Strangers: Prey at Night, and he'll be seen this fall in the thriller Bad Times at the El Royale.
The Top Gun Maverick cast is getting quite crowded, but that's to be expected since the first film had quite the ensemble back in 1986. Tom Cruise is obviously leading the way as Maverick, since he's been trying to get this project off the ground for decades now. Val Kilmer is also returning as Iceman, but new faces include Miles Teller as the son of Maverick's former wingman Goose, as well as Jennifer Connelly and Set It Up charmer Glen Powell.
Meanwhile, the supporting roster includes young faces like Jay Ellis (Insecure), Bashir Salahuddin (GLOW), Danny Ramirez (Assassination Nation), and Monica Barbaro (The Good Cop), as well as more adult stars Thomasin McKenzie (Jojo Rabbit) and Charles Parnell (A Million Little Pieces). Are there any roles left to fill? We'll have to wait and see as production on the sequel continues.
TRON Legacy and Oblivion director Joseph Kosinski is at the helm of the Top Gun sequel that is shooting right now and slated to hit theaters next summer on July 12, 2019.